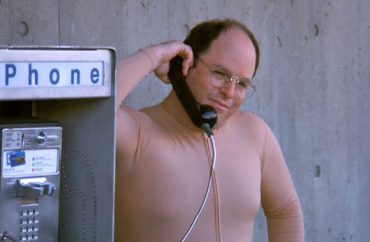 Remember the Seinfeld episode where George tries to get fired from the Yankees, at one point streaking around Yankee Stadium (sort of) yet "nobody seems upset"?
A Cambridge University lecturer decided the best way to protest the Brexit vote to leave the European Union was to discard her better judgment along with her clothes and show up to the economics faculty meeting in the buff.
It accomplished nothing, except perhaps putting her on every cable-news booker's off-peak pundit list and teaching female students to use their anatomy – not their ideas – to get noticed.
The Telegraph reports that Victoria Bateman had written "Brexit leaves Britain naked" on her breasts and stomach, sitting through a two-hour meeting "without anyone mentioning her nudity":
Nigel Knight, director of studies at Churchill College and the chair of the meeting, glanced at her and then said to his secretary: "I think we need some cups for the coffee" and everyone else just stared straight ahead.
Bateman has used her body for professional advancement in the past: She drew attention to her campaign for "a sexual revolution in economics" by going full frontal in a life-size portrait in 2014.
MORE: Student goes nuts in Halloween costume flap 
The Telegraph notes that Bateman has written that leaving the EU will harm the United Kingdom, but she apparently decided that showing respect for her colleagues in a run-of-the-mill faculty meeting was less important that making herself a spectacle.
An abject failure of a spectacle, as it turns out.
Perhaps Bateman thought she was showing bravery by putting her body on display in the service of her ideology, like some perverted Christ figure who was martyred for Britain's sins.
Bravery in my view is Harvard's Nicholas Christakis enduring abuse from a student mob (which later showed up in his living room) because he thinks Halloween costumes aren't an academic matter.
MORE: Bisexual, Latino professor chased out — for being too conservative
It's Robert Oscar Lopez enduring years of harassment and bile from CSU-Northridge colleagues and students – because he's a socially conservative veteran and sexual minority who doesn't fall in line with them – before deciding that keeping his tenure wasn't worth losing his soul.
It's ex-Northwestern's Alice Dreger fighting against censorship of her work and transgender activist harassment for her politically inconvenient research on intersex characteristics.
Even the Free the Nipple people just want the freedom to be shirtless in public without getting arrested.
In contrast, Bateman wants to arrest your attention – not persuade your mind.
MORE: Sex researcher blacklisted from feminist website
Like The College Fix on Facebook / Follow us on Twitter
IMAGE: Seinfeld screenshot
Like The College Fix on Facebook / Follow us on Twitter