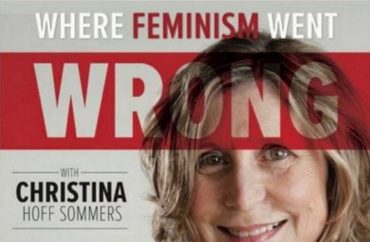 Flyers advertising an upcoming speech at Cal State LA by Christina Hoff Sommers — a talk titled "Where Feminism Went Wrong" — were ripped down by what appears to be a female student who called the posters offensive, according to a video of the incident.
The vandalism occurred Thursday morning at the public campus, according to Young Americans for Freedom, a conservative campus club hosting the talk.
Sommers' talk, slated for Oct. 4, suggests that "feminism used to demand equality … now it demands safe spaces, trigger warnings and has become hostile to men," the flyers say.
"Thankfully, CSULA YAF printed thousands of fliers and is well-equipped to replenish the campus in the wake of desperate feminists vandalizing their property," the group stated in response to the incident.
Cal State LA is the same campus at which a near riot broke out as YAF hosted conservative firebrand Ben Shapiro on campus in February. Protestors clogged the entryway to the theater and blocked anyone from entering, forcing Shapiro to sneak in through the back door and give the talk over the Internet.
Sommers is also no stranger to controversy. Her arguments that women have achieved equality are met with vitriol, trigger warnings and protests from many campus communities.
When she spoke at Oberlin last year, posters put up by protestors called her a rapist supporter, and she was also greeted with rude, immature heckling from the crowd. Her visit there also included an announcement by two safe-space facilitators prior to the speech.
Like The College Fix on Facebook / Follow us on Twitter