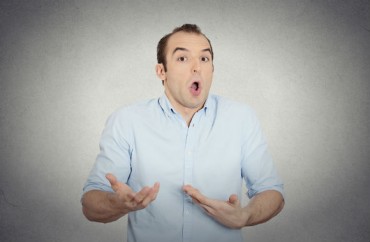 It should be abundantly clear by now that any disputed sexual contact between male and female college students will get the male in trouble, even if the female initiated sex and hard evidence contradicts her account.
Witnesses who agree with the accused may even be threatened.
Yet the word hasn't reached all male students, who continue
1) responding favorably to come-ons by comely young women
2) engaging in sexual contact that sounds pretty darn consensual
3) getting accused of rape by either a) their partners or b) administrators hearing a thirdhand story
4) getting punished by their colleges
5) filing lawsuits against their colleges for violating their right to due process.
RELATED: She initiated sex with me when I couldn't consent, expelled student claims
The latest lawsuit is against the University of St. Thomas by an unidentified male student whom it suspended until February 2018, and it's a doozy, as reported by the Star Tribune (h/t Cynthia Garrett).
First, the censorship attempt: The Catholic school in Minnesota is asking the federal court in St. Paul to "delete and seal" some allegations in the suit that cited "medical reports" from the nurse who examined John Doe's accuser.
St. Thomas says it wants him sanctioned by the court because the reports "are improperly in his possession." Note the curious passive phrasing, reminiscent of Occidental College somehow leaving "internal" records in plain sight for months.
RELATED – LAWSUIT: University expelled black athletes for uncorroborated rape, threatened their witnesses
Second, the victim-blaming: The male student claims that after they had drinks together, held hands and gave each other back rubs, Jane Doe took him to her dorm and forced herself on him.
She straddled him and started unbuttoning his shirt, according to John Doe's court filings. Later, he alleged, she fondled him, which he took as a "clear indication of her consent" and he penetrated her digitally. John asked her to go further, but she declined. The two parted about 1:30 a.m.
Two days later, she accused him of failing to obtain her consent, going to both the hospital and police claiming that John "tried to force her to perform oral sex." (The events in question happened in December.)
RELATED: Getting a judge to recognize anti-male bias in campus rape cases is a tall order
The police quickly dropped their first-degree sexual assault investigation of John, and his attorney
provided St. Thomas' lawyers with audio recordings from several people who saw his client and Jane flirting and kissing that night, as well as a photograph, taken while in jail, of wounds John said were left on his body by Jane.
John's suspension was upheld last month by Karen Lange, vice president for student affairs at St. Thomas.
Lange seized on John's statement that Jane "never told me to stop," apparently ignoring John's entire description of Jane's very obvious attempts to seduce him.
You know, by sitting on his crotch and fondling him without his affirmative consent.
RELATED: Another accused student tries Title IX as a club to beat the hell out of his college
Apparently those carnal cues do not constitute "freely given consent" by the straddler/fondler, in Lange's view. Nor do they constitute sexual misconduct on Jane's part, apparently. This sex-based discrepancy in punishment might be enough to add a Title IX claim against the school.
The only downside is the Department of Education's Office for Civil Rights – whose campaign of threats and intimidation against colleges is the real reason that St. Thomas railroaded John Doe – is not named as a defendant.
It would have been nice to add Minnesota to Colorado and Georgia as venues where lawless, unenforceable regulations were on trial as well.
RELATED: Judge Rejects Occidental College Request To Seal Sexual-Assault Records
Like The College Fix on Facebook / Follow us on Twitter
IMAGES: Shutterstock, Sabphoto/Shutterstock, LinkedIn screenshot