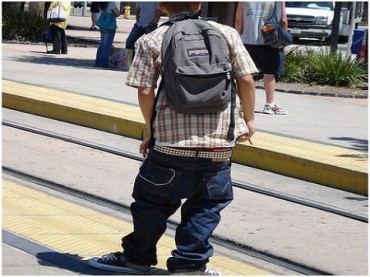 This past Tuesday's feature of the University of Wisconsin at Madison's "Black Lives Matter" Speaker Series was Brittney Cooper, a professor of — you guessed it — gender and women's studies and Africana studies at Rutgers University.
She's also a co-founder of a group called the Crunk Feminist Collective. Whatever that is.
Ms. Cooper has been a subject at The College Fix several times now.
Cooper's talk, as The Fix's David Hookstead discussed three days ago, was about "respectability" and "ratchetness" in black culture.
The former, she says, was the "self-regulation of black culture during Reconstruction, […] an effort to eliminate racism and present black men and women as worthy of respect after the Civil War."
Cooper said this era of respectability began to decline first with the "sag," a fashion trend that emerged in the early 1990s in which young black men wear their pants below their waists. She said the trend exemplified a failure in respectability politics, because acting "respectable" does not provide any advantages or protection from injustice.

"Whatever your personal view of how high on the waist someone chooses to wear his or her pants," Cooper said, "I think we can all agree that sagging pants don't determine one's access to a college education and would have little bearing on achieving a positive outcome if one should encounter the police."
The end of respectability also saw the beginning of the "ratchet," which "began as a gender-neutral term meaning the opposite of respectability," but now has now become "a derogatory term meant to regulate black female bodies.

If you want to show respect to black folks, Cooper says, "[d]isregarding racial convention and dissing respectability is sometimes the very best way" to do it.

Apparently, Neil Young doesn't see it that way:

Read the full article.

Like The College Fix on Facebook / Follow us on Twitter

IMAGE: Bisayan lady/Flickr