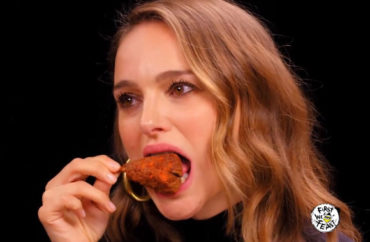 Society makes women eat 'dainty, light, and sweet'
Have you ever watched two men devour spicy chicken wings and been so affected by the absence of women that you wrote an academic paper about it?
If not, then you're not as enlightened as the University of Tulsa's Emily J.H. Contois.
The professor of media studies apparently sees toxic masculinity at work in the popular YouTube show Hot Ones, whose host and celebrity guest each eat a plate of hot wings "dressed with hot sauces of increasing intensity."
Her research "examines how media representations of food, cooking, and dieting construct and negotiate masculinities in our current historical moment," and Contois's paper in Feminist Media Studies sees dark forces at work in the three-year-old web series produced by First We Feast:
In all that time, only eleven women had been solo guests on the show, a stark underrepresentation that piqued my academic interest. … My analysis of Hot Ones informs feminist media studies, as it reveals how this YouTube show creates, maintains, and manipulates inequitable gender hierarchies through the interrelated performances of gender, food consumption, and celebrity.
The problem, of course, is gender binaries, which "create power hierarchies by feminizing
dainty, light, and sweet flavors and foods, eaten in small portions with restraint," Contois writes.
In contrast, "social conventions" tell us that manly foods are spicy and served in large quantities, and that "real men" (her scare quotes) are expected to "seek out and conquer" hot peppers and the spice-signaling sauces ("Da Bomb," "Pain is Good") that include them.
The Food Network and other media "reinforce these gendered notions," and our culture's hostility toward women messily masticating spicy fowl (and discussing its effect on their GI tract) may lead fewer female celebrities to agree to come on the show, Contois theorizes.
After all, such topics are "often considered taboo for women to openly discuss, let alone as part of a celebrity persona" – unless they adopt the "cool girl" persona (Contois's scare quotes, again), wherein the female guest acts like a stereotypical man while keeping it tight.
Lest you thought Contois could make it through her three-page paper without judging a person for his innate traits, she says the show's spice-mastered host, Sean Evans, evinces a "white, heterosexual, cisgendered, everyman brand of masculinity."
Her paper was published in the same journal that recently denounced the undervalued prostitute in video games.
MORE: Professor argues prostitutes in video games are undervalued
IMAGE: First We Feast/YouTube
Like The College Fix on Facebook / Follow us on Twitter