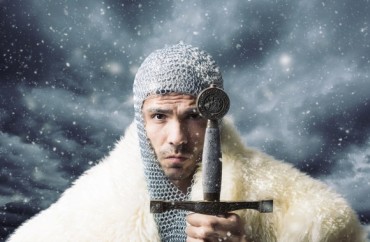 A female, Christian professor at the University of Chicago has been rebuked by her feminist peers for her "Talking Points: Three Cheers for White Men" blog post that praised white men for their longtime support of the ideals that uphold feminism.
"When white women … invented chivalry and courtly love, white men agreed that it was better for knights to spend their time protecting women rather than raping them," associate professor of medieval history Dr. Rachel Fulton Brown wrote as one talking point.
"When white women … invented feminism, white men supported them … and even went so far as to vote (because only men could vote at the time) to let them vote, not to mention hiring them as workers and supporting their education," she added.
In all, there were four talking points, including Fulton Brown's praise of white men "who voted in favor of the First Amendment to protect your right to disagree with me in the public sphere, including on matters of heated political discourse."
Titling her original post "Talking Points," Fulton Brown told The College Fix in an email that she sought to inspire a discussion about the role of white men's support for the ideals of chivalry, consensual marriage, the vote, and free speech.
Published in June 2015, it spawned new life last month after female scholars stumbled upon it and began an online assault on its assertions.
Academic chivalry is dead
Fulton Brown's "Three Cheers for White Men" blog entry was posted on the Society for Medieval Feminist Scholarship's Facebook page in January, where it prompted a heated discussion and inspired ridicule and scorn.
Though the Society's Facebook group is members only, and the thread has since been closed down, Fulton Brown, who engaged her critics on Facebook by joining the group after she heard her blog entry had been posted, relayed to The College Fix some of the comments, which included:
"Good grief. This is not feminism of any kind."
"True. It is all about men."
"Oh for god's sake, this post is such incredible bullshit. Chivalry was 'invented' and no one raped anyone? Wife of Bath's Tale? It scares me that this person is in charge of teaching medieval history somewhere."
The "white men" blog post had been shared by Dr. Dorothy Kim, one of Fulton Brown's colleagues in the medieval field and an assistant professor of English at Vassar College.
"I believe that one should always support good feminist work in the world, however, I am not OK w/ supporting white feminist work," Kim posted to the group.
Kim later wrote on her blog about Fulton Brown that she "uses a fantasy 'white male' version of the Middle Ages as a way to respond to current conversations about race and uphold white supremacy as a structure."
RELATED: Harvard Feminist Says Academic Freedom Should Be Abolished
RELATED: Conservative female student group accused by peers of damaging women's rights
In defense of defending white males
After the Facebook debate died down, Fulton Brown, in an email to The College Fix, said that the point of her argument had been lost in the fray.
"I had been thinking for some time about ways to push back against the negative image of the Western tradition that has become so prevalent in our national culture, particularly the way in which people have been talking for decades about 'white men' as if they were the source of everything repressive and intolerant," Fulton Brown (pictured) told The Fix.
"My point was to say that insofar as we women in the West expect men to act in certain ways towards us and to have certain freedoms and rights ourselves, we have been supported throughout Western history by men who agree and actively challenged other men who would behave otherwise towards women or expect women not to have certain rights and roles," she continued.
"We talk about 'Dead White European Males' all the time as if they were the enemy, but some white men have actually been part of the tradition that we now think of as 'feminist' all along — three cheers for them!" Fulton Brown said.
RELATED: High school English teacher won't teach Shakespeare, says nonwhite students can't relate
'Blogging with Tenure'
Fulton Brown wrote a post following the controversy with the Medieval Feminist Society's members titled "Blogging with Tenure" that explains the importance of advancing ideas that may be uncomfortable or against the grain in academia.
In it, she noted how her perspective as an American Christian woman helps to inform and bolster her commitment to free expression and respectful discourse.
Fulton Brown clarified this idea in an email to The Fix, writing: "I have always been distressed by the sort of shaming tactics that I see many of my colleagues drawn to use, whether against the sources that we study or against those with whom they disagree. To disagree is one thing, but to try to shame each other into silence is another thing entirely."
"As a tenured faculty member at the University of Chicago, I see it as my responsibility to speak on behalf of the tradition that I study, as much for my students' sake as for the sake of our culture more generally," Fulton Brown continued.
Fulton Brown concluded by saying the greatest challenge for tenured and non-tenured academics wishing to voice different ideas is staying positive.
"It means being willing to speak on behalf of the beauty and joy we find in our tradition, including its ideals," she said. "The answer is not tearing down the culture because it has failed to live up to its ideals; it is to have faith in our tradition and to continue to strive for improvement, always with the recognition that to err is human."
Like The College Fix on Facebook / Follow us on Twitter
IMAGE: Shutterstock