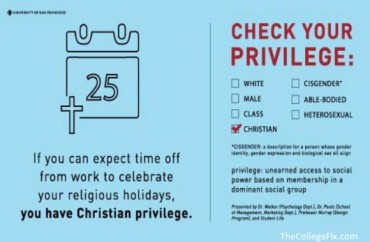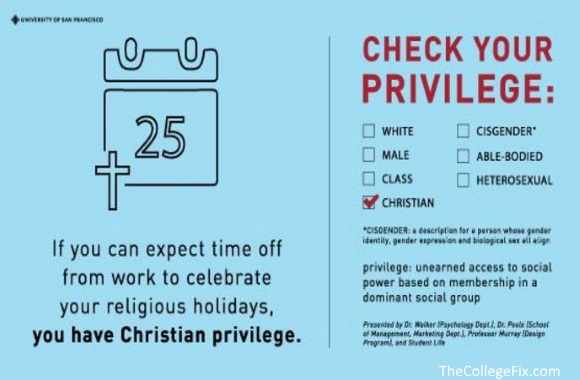 UPDATED
A new group on campus who allegedly enjoy "privilege" has been identified — Christians.
A poster campaign recently seen at several universities across the nation lists "Christians" as a group of students who enjoy privilege along with the usual suspects: whites, males, heterosexuals, the "able-bodied," and so on.
The poster campaign was the brainchild of scholars at the University of San Francisco — a Jesuit Catholic institution — who say their goal is to raise "critical awareness of … institutional oppression" and assert: "If you can expect time off from work to celebrate your religious holidays, you have Christian privilege."
The posters come at a time when awareness of global Christian genocide is growing — just last month the U.S. House of Representatives approved a resolution declaring that ISIS is committing genocide against Christians in the Middle East.
And in America, especially on secular college campuses, anecdotal evidence suggests Christian students are widely mocked, accused of homophobia, and suffer from biased professors' disparaging comments and homework assignments.
RELATED — Prof: 'Don't take this class if you believe the Bible is infallible'
RELATED: Harvard employee rebukes student for discussing Bible verse on campus
Meanwhile, the notion that "if you can expect time off from work to celebrate your religious holidays, you have Christian privilege" does not take into account Christmas is a national holiday and everyone gets it off. Nevertheless, several posters include "Christian" students in with the rest of the so-called "dominant social groups" who allegedly enjoy privilege.
"This campaign seeks to begin the discussion around privilege and social inequalities in an effort to raise critical awareness of the institutional oppression often seen in the United States of America," according to the University of San Francisco's "Check Your Privilege" webpage.
USF's poster campaign took place two weeks during fall 2014, then went viral.
"The posters were shared thousands of times on social media sites, especially Tumblr and Facebook, and published in feminist online publications Jezebel and Bitch Media. As a result, there have been numerous requests from colleges across the nation to use the materials on their campuses," the San Francisco Foghorn campus newspaper reported.
RELATED: Professor Covers Jesus Statue With Vacuum Dirt, Calls It Art
RELATED — The War on Jesus: Universities Nationwide Snub, Criticize Christ, Survey Finds
The posters were indeed picked up by other campuses. For example, at Virginia Tech, its diversity officials this semester hung the USF poster that lists "Christian" as a privilege along with other groups and declares: "If you don't have to think about it, it's a privilege."
The goal in hanging the poster was "to encourage students to think about societal issues and, perhaps, use it and the thoughts it generates to engage in conversation with other students," Mark Owczarski, a spokesman for Virginia Tech, told The College Fix in an email.
A very similar poster was hung earlier this semester at Southern Oregon University.
At both Southern Oregon University and Virginia Tech, the posters caused backlash from some students who felt they divided the campus rather than brought students together in positive discussions.
"I believe they are segregating and dividing the population by targeting certain groups," Southern Oregon University student and U.S. Marine Corps veteran Tim Short told the campus newspaper there.
And Elizabeth Campbell, chairwoman of the conservative Young Americans for Freedom chapter at Virginia Tech, said in March that after seeing the poster on her school's Multicultural Center wall she felt frustration and disappointment.
"Today, I was diagnosed with privilege. Symptoms: white, Christian, straight, 'cisgender,' and able bodied," Campbell wrote on YAF's website. "Virginia Tech deciding who does and does not have privilege is not okay. Going up to a sign and reading that you should 'check your privilege' just because of the situations you were born into, and paths you have chosen for your life, is categorizing and dividing people further."
RELATED: At tree-lighting ceremonies, one university forbids Christian song, another deletes word 'Christmas'
RELATED: Christian colleges buying into 'white privilege' are distorting the gospel
But University of San Francisco scholars who developed the posters state on their website that "we do not seek to offend anyone with the posters or make anyone feel bad for holding any level of privilege."
"The hope is that individuals who see the posters will take a moment and reflect on their identities and the ways in which they can use their respective privileges to advocate for others."
CORRECTION: The original article misstated the year the poster campaign took place. It was during fall 2014. The article has been amended accordingly.
RELATED: Professor has literature class read 'The Baby Jesus Butt Plug: A Fairy Tale'
RELATED: Student Talking About Jesus Told To Shut Up
Like The College Fix on Facebook / Follow us on Twitter
IMAGES: Internet screenshots