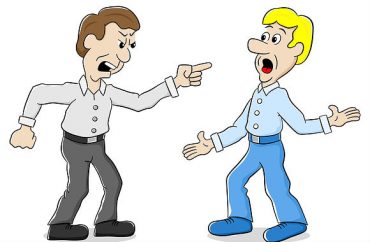 At some point, Georgia lawmakers were so worried that children might be traumatized by seeing adults fight in front of them that they criminalized 
upbraiding, insulting, or abusing a public school teacher, administrator, or bus driver in the presence of a pupil while on the premises of a public school or school bus.
It was part of a collection of laws that target "loitering at or disrupting school," and it applied whenever you are told that "minor children are present" at the school (or on the bus). If you didn't leave when told, you could be fined $500.
Thanks to one parent's outrage at his children's school bus driver, that law was struck down last week by the Georgia Supreme Court as "unconstitutionally overbroad," following the world's fastest appeal.
The Florida Times-Union has the details on how Michael Antonio West got arrested early last year:
West, who has two children in elementary school, was upset that his children were being bullied aboard the bus by the drivers' grandchildren, said his lawyer, Jason Clark.

Clark said that West met the rural bus at the stop north of Brunswick to tell the driver that her grandchildren had spit in his children's faces, Clark said.

It started badly with driver saying, in effect, "You get off my bus. That's a $500 fine," and threatening to call police, Clark said.

West responded in kind with, "I'm calling the law on you for cruelty to children," for allowing the bullying, Clark said.

West didn't follow through, but the bus driver apparently complained back at the bus barn.

"Four or five months later, they pick him up on a warrant," Clark said.
A trial judge refused to throw out the case on the grounds that the law was unconstitutional, but let West appeal that ruling immediately to the high court. And the high court, in turn, looked up the words "upbraid," "insult" and "abuse" in the dictionary:
to upbraid is to "criticize severely: find fault with" or to "reproach severely: scold vehemently" … an insult is "to treat with insolence, indignity, or contempt by word or action" or "a gross indignity offered to another either by word or act: an act or speech of insolence or contempt" … and, abuse is defined as "to attack or injure with words: reproach coarsely; disparage" or "language that condemns or vilifies, usually unjustly, intemperately, and angrily…"
It's obvious that the law, whatever lawmakers' intent, does not simply cover "fighting words" (which are not protected by the First Amendment), the court said:
Further, though ostensibly seeking to prevent disruptions to education or school activities, the statute neither ties the prohibited expression to the disruption of normal school activities nor limits the prohibitions to specific, fixed times, such as when school is in session. … Also concerning, the statute does not proscribe all speech that might be boisterous or disruptive; instead, OCGA § 20-2-1182 prohibits only that speech directed at public school officials which may be perceived as negative or unfavorable.
The court notes some other situations where this law might be invoked – "a high school football game or a parent-teacher conference" – and said the end result is that "the speaker is silenced" for the content of his speech.
The Student Press Law Center called the high court's ruling
an important decision for free expression advocates, and the judges took great care to outline the reasons for their finding, emphasizing that they are bound to interpret the law as it was written and not only through the perceived intent of the legislators who passed it.
Just remember, though, Georgia parents and other defenders of the truth against dopey public officials: Your righteous tongue-lashing is still probably being recorded by at least one kid, and you might suffer social as opposed to legal consequences.
Like The College Fix on Facebook / Follow us on Twitter
IMAGE: AntiMartina/Shutterstock