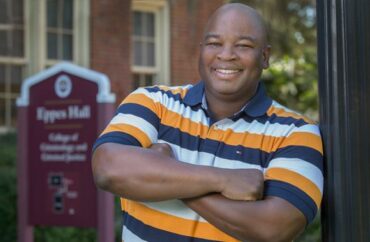 ANALYSIS: A professor has been fired, but his questionable papers remain alive in thousands of citations
Though Florida State University Professor Eric Stewart no longer works at the school after being terminated following a finding of research misconduct, his questionable work lives on in the thousands of academic papers which cited him.
The College Fix analyzed the number of Google Scholar citations of Stewart's retracted papers—which add up to 793 in total. However, the university also fired Stewart because of problems confirming the data in 11 other papers. Those papers have been cited a total of 2,325 times, a College Fix analysis found.
Stewart (pictured) said he lost the data for those papers, but the intent to terminate letter stated that standard research practice is to keep back-up copies in the cloud or on hard drives.
"Based on the totality of the information and the glaring demonstration of data mismanagement and the unprecedented number of articles retracted, I find that the evidence supports a termination for incompetence and negligence in the performance of your duties," Provost James Clark wrote in the initial letter informing Stewart he was under investigation.
He informed Stewart that the professor "demonstrated extreme negligence in basic data management, resulting in an unprecedented number of articles retracted, numerous other articles now in question, with the presence of no backup of the data for the publications in question," the termination letter from Provost Clark reads.
Provost Clark also wrote to Stewart that "you have not pursued any remedial action, and you have even refused to cooperate with your FSU colleagues and coworkers who requested to work with you on these matters."
Justin Pickett, a former researcher with Stewart, raised concerns about the professor's work after discrepancies were anonymously flagged.
Provost Clark did not respond to requests for comment on Oct. 8 and Oct. 14 that asked for more information on the papers under investigation.
MORE: Ibram Kendi hasn't published a new paper in 4 years
The  Fix emailed Stewart for comment but was informed his email is not in use anymore.
His most-cited retracted article—titled "School social bonds, school climate, and school misbehavior: A multilevel analysis" published in 2003 in Justice Quarterly—is the only retracted article that he sole-authored. Other scholars cited the paper 570 times according to Google Scholar.
However, a 2006 paper which the university questioned has 458 citations.
Stewart's second most-cited retracted article was cited 99 times according to Google Scholar. That paper is titled "Ethnic Threat and Social Control: Examining Public Support for Judicial Use of Ethnicity in Punishment." It was published in Criminology in 2011.
"[E]ditors found that Stewart manipulated data," in this study to "inaccurately show that as black and Hispanic populations grew, the surrounding white populations wanted more racially discriminatory sentencing," The Fix previously reported.
One work that cites this paper is a book chapter called "Racial Threat and Social Control: A Review and Conceptual Framework for Advancing Racial Threat Theory" in Building a Black Criminology  by University of Cincinnati Professor Ben Feldmeyer.
The Fix reached out to Feldmeyer on Oct. 8 and asked if he thought the retraction of work he cited resulted in any problems in his writing but has not received a response. He is a co-author with Stewart on a 2020 paper under question.
He did not respond to another College Fix email on Oct. 18 that asked if the 2020 paper remains under investigation, if he has a copy of the data used, and if he worked with FSU on the problems.
Another paper, "The Social Context of Latino Threat and Punitive Latino Sentiment" published in 2015 in Social Problems was cited 78 times according to Google Scholar.
Pennsylvania State University professor Eric Baumer did not respond to a request for comment on any criticism he has faced for co-authoring the paper. He is copied on emails from Stewart asking for papers to be retracted.
The three other retracted research papers are titled "The Social Context of Criminal Threat, Victim Race, and Punitive Black and Latino Sentiment," "A Legacy of Lynchings: Perceived Black Criminal Threat Among Whites," and "Lynchings, Racial Threat, and Whites' Punitive Punitive Views Views Toward Blacks."
MORE: UVA race hoaxer gets deal with Dove as 'fat liberation advocate'
IMAGE: Florida State University
Like The College Fix on Facebook / Follow us on Twitter