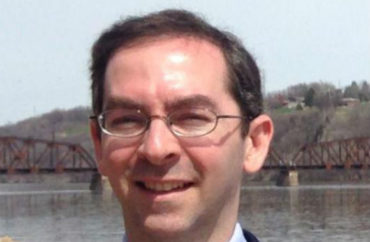 UPDATED
Adam Kissel cut his First Amendment teeth defending student rights and academic freedom at the Foundation for Individual Rights in Education.
Now he's taking a leading position in President Donald Trump's Department of Education.
Secretary Betsy DeVos* announced Kissel's hiring along with another staffer in a media release today. He will serve as deputy assistant secretary for higher education programs effective June 19.
At FIRE, he served as director of the Individual Rights Defense Program and Vice President of Programs from 2007 to 2012. Kissel worked on issues including Bucknell University's punishment of "affirmative action bake sales," organized disruption of an Israeli official's address at UC-Irvine, and a potential investigation of Brooklyn College Prof. KC Johnson for criticizing "indoctrination" of students.
Kissel has served as senior program officer in university investments for the Charles Koch Foundation since 2012.
In a statement given to The College Fix, FIRE noted Kissel left in 2012: "We wish him the best in his new role."
Intolerant students at @UCLA vs. 'War on Cops' author Heather Mac Donald https://t.co/ZYcElU8Bqg (blame @UCLAAdmission or the faculty?)

— Adam Kissel (@AdamKissel) April 7, 2017
"It's a shame that @washingtonpost is affirmatively calling for viewpoint-based speech suppression." | Volokh | WaPo https://t.co/fpIpGBnUsF

— Adam Kissel (@AdamKissel) May 11, 2017
Inside Higher Ed notes:
As director of the Individual Rights Defense Program and vice president of programs at FIRE, Kissel was a frequent critic of universities the group has accused of violating the free speech rights of students and faculty. He's also criticized broader "intolerance" on campuses. Kissel has also taken issue with the standard of proof used by colleges in the adjudication of recent sexual harassment and assault cases.
Democratic Sen. Patty Murray of Washington, a vocal critic of due process in campus sexual-assault investigations and ranking member of the Senate committee that oversees education, took time out of her busy schedule to issue a release savaging Kissel.
She called him "a critic of current efforts to strengthen protections for survivors of campus sexual assault":
Kissel has previously stated he supports a higher burden of proof for survivors of sexual violence on college campuses, and worked for an organization that supported legal challenges against the Department's guidance on campus sexual assault.

"I am deeply troubled this hire is another concerning sign that President Trump plans to make it more difficult for survivors of campus sexual violence to get justice. Campus sexual violence is an urgent public health threat nationwide, and rolling back steps that have empowered more survivors of sexual violence to come forward will only send this problem back into the shadows. If there was ever a President who needed to take issues of sexual assault more seriously, it's President Trump—and this is yet another indication his Administration is falling disturbingly short."
The hostility to campus due process among Senate Democrats is one of the saddest developments of recent years:https://t.co/nAYPzZvkXT pic.twitter.com/Capt9sD5xV

— KC Johnson (@kcjohnson9) June 6, 2017
Republican Sen. Lamar Alexander, the chair of the education committee and critic of Department of Education "guidance" on sexual misconduct, did not comment on Kissel's hiring, but rather the hiring of his own committee counsel, Peter Oppenheim, by the Department of Education for a congressional relations position.
Kissel received his master's degree from the University of Chicago, whose sweeping free-speech statement has been used as a template at other colleges.
Read the announcement and Education Week coverage.
UPDATE: Democratic Sen. Patty Murray and Republican Sen. Lamar Alexander released statements about Kissel and another staffer just hired by the Department of Education. The article has been amended accordingly.
Like The College Fix on Facebook / Follow us on Twitter
IMAGE: Adam Kissel/Twitter