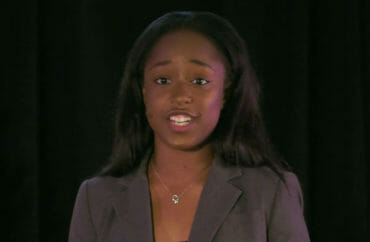 UPDATED
Sorority president during banana-noose incident also suspended
Taylor Dumpson became the first black woman elected student president at American University last spring.
Less than nine months into her term, she has achieved another first in recent campus history: resignation.
Dumpson became a national name when her presidential term kicked off with bananas hanging from makeshift nooses around campus, with her historically black sorority initials written on them. Several months later, the school has yet to announce any suspects from the investigation.
Her immediate resignation late last month came under murky circumstances – and trouble with her sorority.
Dumpson cryptically cited her "health and education" in a resignation statement: "Please, do not look at my resignation as a sign of weakness, but as a sign of strength. I am resigning knowing that I have done the best I can, with what I have, where I am."
She told The Eagle she thought college would be a "utopia" when she applied, but that unspecified "rumors" were "cloud[ing] these achievements" of hers in office.
Campus publication The Blackprint reported that Dumpson's sorority Alpha Kappa Alpha issued her a yearlong suspension in December, citing AKA's "suspended members" list. It said with no evidence that Dumpson's resignation statement claimed the suspension had "nothing to do with her resignation."
The president of the sorority when the banana nooses were hung, Kesa White, was suspended for the same term, starting on the same date of Dec. 13, The Blackprint noted: "No other Lambda Zeta chapter members have been suspended at this time." AKA wasn't on American University's list of newly suspended Greek organizations last week.
Alpha Kappa Alpha declined to explain the circumstances of Dumpson's suspension to The College Fix or whether the identical suspensions of Dumpson and White were related.
A spokesperson said in an email Wednesday the national organization suspended Dumpson "after the completion of an internal investigation." It did not mention White's concurrent suspension.
Asked to explain the basis for not providing information about the basis of Dumpson's sanction, particularly given that she's a public figure, the spokesperson elaborated further late Wednesday:
Alpha Kappa Alpha is a private organization and our policy is not to release the details of internal membership matters. There are a number of reasons for this policy including the fact that members are entitled to exercise their right to appeal, which can be a lengthy process. Any member subject to sanctions imposed by Alpha Kappa Alpha is free to disclose the basis for the sanction. The purpose of listing the names of suspended members is to alert the public to individuals who cannot represent, act on behalf, or conduct business of any sort in the name of Alpha Kappa Alpha.
The spokesperson did not immediately answer whether Dumpson has appealed her sanction.
Dumpson gave a TEDx speech dated last June that was only published Jan. 16, about a month after her AKA suspension. It identifies her as "Lambda Zeta Chapter's Vice President and Program Chair," without mentioning her suspension.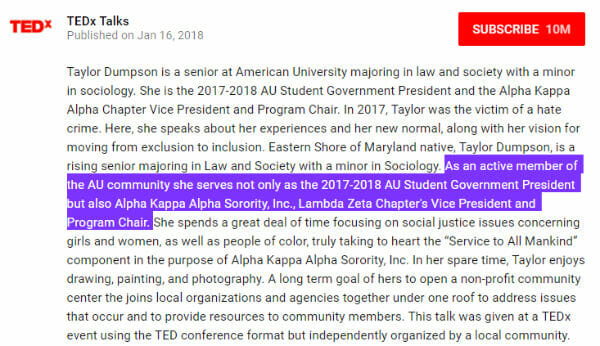 According to the student government, a special election to fill Dumpson's term will be held Feb. 21-23. Campaigning starts Saturday night and nomination conventions the following Thursday.
Read The Eagle and Blackprint coverage.
UPDATE: The spokesperson for Dumpson's national sorority organization further explained after this article was published why it has not released the basis for Dumpson's suspension. The article has been amended accordingly.
IMAGE: TEDx/YouTube
Like The College Fix on Facebook / Follow us on Twitter