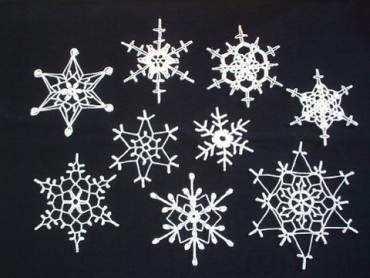 "Snowflake" has become a term of derision for people who are easily offended, particularly regarding perceived slights based on race, gender, religion or sexual orientation.
It's fitting, then, that Cornell University's "guidelines for inclusive seasonal displays" would order students not to put up any decorations with the slightest hint of religious significance – leaving them to have fun with snowflakes.
Flagged by the Foundation for Individual Rights in Education, the "Fire Safety Guidelines For Holiday Displays" – last revised Nov. 19 by Cornell Fire Marshall Ron Flynn – veer off their stated purpose by the end of the first page:
According to the Cornell United Religious Works, there are more than 25 religious organizations represented at Cornell. … In an effort to create an inclusive environment, the University Assembly approved the following Guidelines for the Display of Religious Symbols below.
RELATED: University of Maine official thinks candy canes are prohibited religious symbols
You can "privately display" religious symbols in your work or living areas, but not in "areas that would give the impression" that the university sponsors it – say, hanging out your window.
The school then bizarrely contradicts itself, telling the community they can either celebrate no religion or every religion, with decorations
"Focusing on the winter season rather than a particular holiday"
"Displaying symbols that visually represent holidays of several religions in combination with secular decorations of the season."
RELATED: UC Riverside makes sure its Christmas party is a 'holiday' party
Then finally, the Snowflake Rule. These are the only decorations that are approved without qualification:
"Snowflakes"
"Trees (in accordance with Fire Safety Guidelines) decorated with snowflakes and other non-religious symbols"
You should have a "dialogue" with your neighbors if you want to have trees "decorated with bows, garlands and lights," "wreaths with bows," holly (we're not kidding) or – get this – snowflakes combined with Santa Claus and a dreidel.
RELATED: At tree-lighting ceremonies, one university forbids Christian song, another deletes word 'Christmas'
The list officially bans nativity scenes, menorahs, angels, crosses, Star of David and – we're at a loss here – mistletoe and "stars at the top of trees."
FIRE's Catherine Sevcenko writes:
Why should a tree decorated with snowflakes be acceptably "inclusive," yet a tree with bows, garlands, or lights require dialogue—and what is that conversation supposed to entail? But more mystifying is the premise that in order to be inclusive, Cornell's administration wants to exclude a random list of primarily Christian and Jewish symbols. …

Discouraging students from sharing their traditions with their peers prevents learning and undermines Cornell's claim that it aims to promote cultural awareness and cross-cultural understanding. … Would Hindu students be limited in their decorative options during Diwali? Or is the Indian festival of lights OK, whereas the Jewish one is not?
Read Cornell's decorations policy (while you can – it may not last much longer) and FIRE's post.
RELATED: Public university tells campus: 'Ensure your holiday party is not a Christmas party in disguise'
Like The College Fix on Facebook / Follow us on Twitter
IMAGE: chiecrochets/Flickr