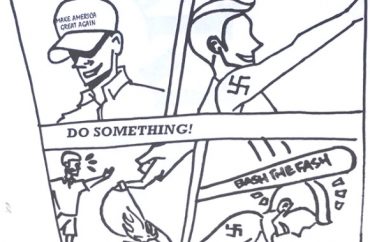 CHAPEL HILL, N.C. — The University of North Carolina has condemned a "threatening flyer" that seems to encourage violence against supporters of President Donald Trump.
It has been "posted around campus and disseminated through social media," according to a Thursday night email from Chancellor Carol Folt that was also signed by the provost, chief diversity officer and vice chancellors for student affairs and equity.
The images on the flyer depict one man in a "Make America Great Again" hat and another with a swastika tattoo on his arm. "If you see something …" the top reads, with the next panel concluding: "Do something!" It depicts the hat being burned and the tattooed man being clubbed on the head with a baseball bat labeled "Bash the Fash," or fascist.
The flyer was found on the front of The Daily Tar Heel student newspaper box, according to WRAL, and a photo of the flyer was also shared on the "Overheard at UNC" Facebook group.
"The flyer and its message are the antithesis of the values that are the foundation of our University. It is not designed to spark civil discourse or encourage thoughtful debate," Folt's email said.
She encouraged students to contact campus police if they see something that intends to "incite violence," and Counseling and Psychological Services if they "see offensive material" and "need assistance."
Students and others debated the flyer in a post on Overheard at UNC, a public Facebook group.
One person wrote: "Punching Nazis just to be safe? Worked pretty well in WWII. If any punching starts, it will be going in both directions. And I know which side I'll be on."
In an interview with The College Fix, junior Charlie Talcott said "I think it is a disingenuous representation of the average Trump voter."
"This picture portrays these people as bigoted and deserving of being beaten, and that is not fair to many millions of people," Talcott said.
Talcott noted he is a German literature and culture major. He encouraged the flyer's creator and distributors to "look at the history of the Third Reich and ask themselves if fatally beating an opposing voter of the head is an act of political heroism or something more like what the Nazis would have done to their opponents."
A leader of the campus College Republicans, Administrative Vice Chairman Will Rierson, told WRAL that the group already has "tough skin" because it's a "minority on college campuses."
The creator of the flyer can "say whatever you want as long as you don't make a real and credible threat," Rierson said. "I'm perfectly fine with whatever your political viewpoints are."
MORE: Student government gives $1,000 to leftist group that physically attacked conservative students
Like The College Fix on Facebook / Follow us on Twitter