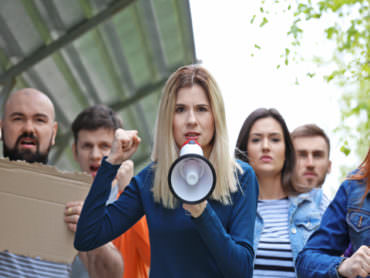 Students had staged 'sit-in' in campus admin building
The College of Wooster is budgeting an additional $20,000 for its Center for Diversity and Inclusion and adding new trainings to fight discrimination following a "sit-in" by student protesters earlier this semester.
The sit-in, which took place in the Ohio campus's Galpin Hall, comprised around 350 students, or nearly 20 percent of the undergraduate student population of approximately 2,000. The protest was sparked by "a Facebook post by a student," according to ABC Channel 5 Cleveland.
During the protests, which took place in late January, students issued a list of 23 demands to the administration, including a "student-led Administrative Transparency Board"; mandatory "consent and bystander intervention training" for new students; a "survivor hotline and house" staffed by students "dedicated to ending sexual violence on the College of Wooster Campus"; and numerous other stipulations.
The demands also called for an unspecified increase in funding for the school's Center for Diversity and Inclusion.
In response to that demand, earlier this month the college allocated an additional $20,000 for the center, according to an email from college President Sarah Bolton.
The school will also implement "training for all students, staff, and faculty to create a more equitable and inclusive campus," Bolton wrote.
Reached via email, campus spokesman John Hopkins told The College Fix that the college already requires "cultural competency" training for incoming students, but the school "will now be broadening the scope of that effort to include leaders of all student organizations as well."
"Other efforts were already underway before the sit-in," Hopkins added. "For example, as part of the diversity, equity, and inclusion strategic plan that the college adopted last August, we had already committed to including education in cultural competency and creating inclusive and equitable campus and learning environments in the professional development in which all staff and faculty take part, beginning this year."
Asked if the school is worried that the college's folding to student demands will increase the likelihood of future sit-in protests, Hopkins said no.
In her email, Bolton said the administration also pledged to examine Wooster's protocol for "reporting of, and response to, discrimination and bias-related harassment."
"We agreed with the students that clarity of process for response is important, and we will create materials that lay those processes out," Bolton wrote. "We also discussed staffing, and ensuring that individuals responsible for responding to concerns are free of conflicts of interest, or any appearance of such a conflict."
David Butts, director of Multicultural Student Affairs at Wooster's Center for Diversity and Inclusion, did not respond to a pair of emails and a voicemail from The College Fix requesting a comment on how the center might spending the extra funding.
MORE: Students take over campus building, issue list of 23 demands
MORE: Evergreen State College president kowtows to student demands
IMAGE: Africa Studio / Shutterstock.com
Like The College Fix on Facebook / Follow us on Twitter