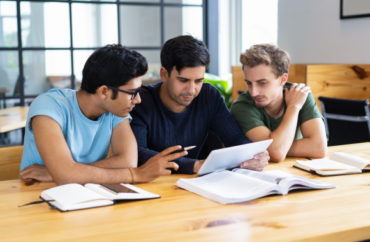 For college-aged students, the potential for adverse reactions to the COVID vaccination appear to outweigh the risks of the virus itself for that age group, said Dr. Aaron Kheriaty, a professor of psychiatry and director of the Medical Ethics Program at the University of California, Irvine.
Asked by The College Fix whether potential side effects of the COVID-19 vaccination outweigh risks of possibly contracting the virus for college-aged students, he said "the answer is likely yes."
"[A]t the very least, based on current evidence, it's entirely plausible to assume the answer is yes: that risks of Covid vaccination outweigh potential benefits of the vaccine for college age students," Kheriaty said via email on Wednesday.
"We don't know with certainty what percentage of college-age students have side-effects, or serious adverse effects, from the vaccine because the current systems (e.g., VAERS) used to track adverse events are not sufficient to answer that scientific question," Kheriaty said.
VAERS stands for Vaccine Adverse Event Reporting System, and it relies on self-reporting and may contain unverified reports that show an association but not causation, Kheriaty said.
He said that while there may be a few fraudulent reports to VAERS, someone would have to be pretty motivated to spend the 30-plus minutes required to file just one of the reports into the "cumbersome system," Kheriaty said.
"Much more likely, however, adverse events are under-reported in VAERS — there are several studies suggesting that this is the case," he said. "Even if adverse effects are not underreported, the reported rates of myocarditis in people under 30 — especially in young men — suggest that the risks of vaccination outweigh the risks of Covid in this population."
Underscoring that, the risks of hospitalization, death, or severe long-term effects for college-age students from COVID "are very, very small — almost zero, statistically speaking. So any risk from vaccination is likely going to outweigh risks from Covid in this population," Kheriaty said.
"Furthermore, when you get vaccinated you know that you are now subject to the risks of the vaccine," he said. "If you don't get vaccinated, you only have a chance of contracting Covid, and therefore a chance of assuming the risks of Covid—it's not 100% certain you'll get Covid just because you were not vaccinated."
In fact, he added, "you still may get Covid if you are vaccinated, thereby assuming both sets of risks: we're seeing more breakthrough cases with vaccinated people and the Delta variant, for example."
"So vaccination involves certainty of risks (from the vaccine), whereas non-vaccination involves only possibility of risks (from contracting Covid): thus, just comparing the risks is comparing apples to oranges, if that makes sense," Kheriaty said.
Earlier this month, Kheriaty co-authored an op-ed with Gerard Bradley, a law professor at Notre Dame, in The Wall Street Journal that pointed out that risks of the currently experimental vaccine outweigh the need for young people.
"The implication is that the risks of a Covid-19 vaccine may outweigh the benefits for certain low-risk populations, such as children, young adults and people who have recovered from Covid-19." https://t.co/jeoT3vybxz

— Aaron Kheriaty, MD (@akheriaty) June 22, 2021
"For those under 30, the risks of serious morbidity and mortality are close to zero. By contrast, early indications from passive surveillance systems (which call for follow-up investigation) and a June 10 review by the FDA's Vaccines and Related Biological Products Advisory Committee indicated an excess risk for heart inflammation, especially in men 30 and younger," the column stated.
They also pointed out that the COVID vaccine mandates "ignore the huge number of students—thousands of them at Notre Dame—who have already recovered from Covid infection, and who thus possess natural immunity, which studies have suggested is more robust and durable than vaccine immunity."
Last week, a Centers for Disease Control and Prevention committee announced a link between COVID vaccines and heart inflammation, stating that "data available to date suggest likely association of myocarditis with mRNA vaccination in adolescents and young adults."
As a result, the U.S. Food and Drug Administration added a warning about the risk of developing a rare heart inflammation for the Moderna and Pfizer COVID vaccines, the Epoch Times reports, noting that so far "there have been more than 1,200 cases of pericarditis or myocarditis in individuals who are aged 30 and younger who had received the vaccine doses, according to the latest CDC findings last week."
MORE: Indiana University sued by students over its vaccine requirement
IMAGE: Mangostar / Shutterstock
Like The College Fix on Facebook / Follow us on Twitter