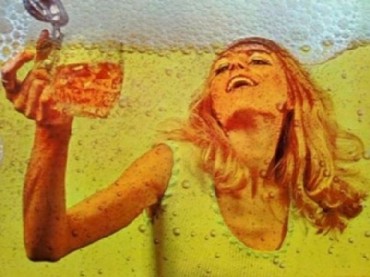 A Forbes columnist got himself blacklisted by the publisher because he dared to tackle the problem of campus rape from the perspective of an fraternity alumnus who works with younger frat brothers on delicate topics.
Forbes told the New York Daily News that Bill Frezza, an MIT grad and president of the "alumni house corporation" for his frat, "is no longer a contributor" to its site and that his column was removed "almost immediately" after it went up.
You can read the offending column through Google's Web cache.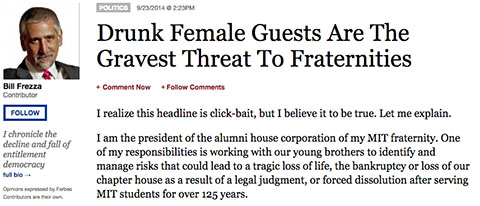 What's interesting about the hubbub is that Frezza doesn't cry "suppression" to the Daily News, and he was trying to make a point about the legal drinking age and "pre-gaming":
In an email, Frezza said Forbes rightly pulled the piece because its subject didn't fit the site's politics section and that the accompanying photo "was in poor taste" [a young woman with cleavage spilling out, drinking from a liquor bottle].

"That being said I stand by every word I wrote," Frezza said.

"Most people have no idea what is going on on college campuses these days due to the ill-advised raising of the drinking age from 18 to 21, forcing so much of it to go underground," Frezza said.
Not that anyone noticed but my column was about pre-gaming and binge drinking. 80 words out of 1,124 were about avoiding rape accusations.

— Bill Frezza (@BillFrezza) September 24, 2014
Here are a few more items from his yanked column:
But we have very little control over women who walk in the door carrying enough pre-gaming booze in their bellies to render them unconscious before the night is through. …

Plus, it remains socially acceptable for bouncers to eject drunk and rowdy males because our society rarely casts them as sympathetic victims, as opposed to the irresponsible jerks that they are. In our age of sexual equality, why drunk female students are almost never characterized as irresponsible jerks is a question I leave to the feminists. …

Identify drunks at the door. I don't care how pretty or flirtatious a young lady is; if she's visibly intoxicated, don't let her in. …

Never, ever take a drunk female guest to your bedroom – even if you have a signed contract indicating sexual consent. Based on new standards being promulgated on campus, all consent is null and void the minute a woman becomes intoxicated – even if she is your fiancée. 
None of this should be remotely controversial. It's not far off the advice the White House itself is promulgating through the new "It's On Us" sexual-assault education campaign. (See in particular the "Tools" section.)
I have a feeling that if a female writer with a similar viewpoint, such as Cathy Young of Reason and The Daily Beast, had written a column on this subject based on interviews with Frezza and other frat leaders, her publisher wouldn't blacklist her.
It appears for the foreseeable future that only women with civil-libertarian bona fides will be allowed to talk about the relevant factors that contribute to sexual assault – or just drunken sex – without jeopardizing their reputations.
h/t quavonndre bangz
Like The College Fix on Facebook / Follow us on Twitter