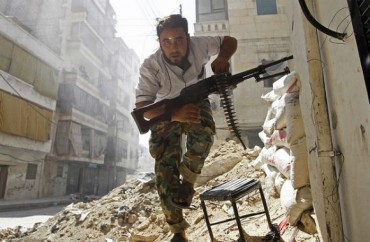 The consequences for students found responsible for sexual misconduct in the campus system usually end with expulsion, a curtailed career, drastically lower earning power and a ruined reputation that's hard to repair.
For a Syrian student at Pennsylvania State University, it could mean his death.
The Legal Intelligencer reports that "John Doe" is suing the school for suspending him following its switch to an Title IX "investigative model" that "removed his ability to confront his accuser or call witnesses of his own."
He's asking a federal judge to place his suspension on hold while considering his claims that Penn State violated his due process rights in its investigation of allegations that he violated a female student at a frat party:
Doe is a fourth-year architectural engineering student and Syrian national who was attending the university on an F-1 student visa from the United States. His family currently lives in Kuwait on civil identification cards, and Doe said his ability to enter and remain in Kuwait is dependent upon his status as a student. If the civil ID card is revoked, Doe said, he is at risk of having to return to Syria where he said two of his relatives have already died in the country's unrest, according to the complaint.
The "single investigator" model adopted by both Penn State and the University of Pennsylvania in the past year has been criticized by the Foundation for Individual Rights in Education, because it "empowers one individual to serve as detective, judge, and jury" and deprives the accused of the opportunity to challenge an accuser's testimony.
Even by the standards of due-process lawsuits by accused students against universities, the factual situation in Doe's alleged misconduct is bizarre:
According to the complaint, Doe's accuser attended a party with her sister at Doe's fraternity in December 2014. Doe was with three other fraternity brothers in the basement when the accuser allegedly suggested having a "fivesome." She allegedly then performed oral sex on all four fraternity brothers, according to the complaint.
Doe claims his accuser's testimony that she was blackout drunk was contradicted by her own friend, who said "she did not seem intoxicated and walked fine on her own," according to the Intelligencer.
Despite never appearing before the panel of faculty and staff which reviewed the investigator's report, Doe said the panel concluded he "'seemed insensitive to the nonconsensual nature of the sexual acts,'" according to the lawsuit.
Also named in the lawsuit: Penn State President Eric Barron and Office of Student Conduct Director Danny Shaha.
RELATED: One official as detective, judge and jury in Penn State rape investigations
Like The College Fix on Facebook / Follow us on Twitter
IMAGE: a.anis/Flickr, Evgeni Zotoz/Flickr