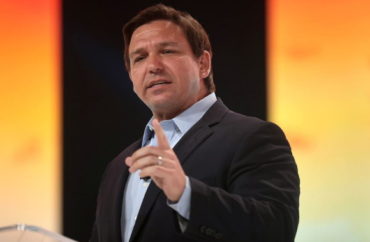 'I'm sending you home,' Gov. DeSantis says
Foreign students should lose their visas if they are publicly supportive of terrorist groups such as Hamas, according to Governor Ron DeSantis and Senator Marco Rubio.
"When the blood wasn't even dry on the Israelis who had been massacred, you had people in America protesting in favor of Hamas," Gov. DeSantis said Friday at an event for his presidential candidacy.
"Some of these people are not U.S. citizens, they're student visas, so as president, if you're on a student visa, and you're a foreigner, and you're out there celebrating terrorism, I'm canceling your visa and sending you home," he said.
Fellow Sunshine State politician Marco Rubio has made similar statements.
"In the days that followed [the Hamas attack], demonstrations have erupted across America in support of Hamas," Sen. Rubio stated in an Oct. 14 news release. "Many of those demonstrations occurred at colleges, whose administrators shockingly failed to condemn the horrific actions of Hamas and allowed pro-terrorist activities to proceed."
The Republican senator said he "urged the Biden Administration to cancel and rescind visas for foreign nationals who endorse or espouse terrorist activity."
This includes "those who defend or support Hamas by calling for intifada, jihad, or other similar actions to eliminate the Jewish state of Israel."
If America granted you a visa, and we find out you're a Hamas supporter, you need to go pic.twitter.com/1KlOXWcrpY

— Senator Marco Rubio (@SenMarcoRubio) October 19, 2023
He will also introduce legislation to the same effect.
The Florida Republican stated he would "pursue legislation to remove federal funding from colleges and universities that allow protests, demonstrations, and other activity that can be reasonably construed to [be supportive of terrorism]."
MORE: Ban students from China until espionage stops, expert suggests
IMAGE: Gage Skidmore/Wikimedia Commons
Like The College Fix on Facebook / Follow us on Twitter