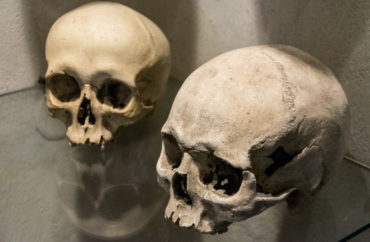 When human remains are discovered, anthropologists typically try to identify a number of traits. Among these are the deceased person's age, sex, height and racial ancestry.
But a group of forensic anthropologists are urging their peers to cease trying to identify the race of human remains based on biological traits, arguing such determinations are inaccurate and often rely on racial stereotypes.
"We urge all forensic anthropologists to abolish the practice of ancestry estimation," wrote Elizabeth DiGangi of Binghamton University and Jonathan Bethard of the University of South Florida in a study released in January.
Both the study and a letter to the editor to the Journal of Forensic Sciences argue against racial identification of remains. They were written following the death of George Floyd at the hands of Minneapolis police, which caused many academics to reconsider the racial implications of their professions.
"Forensic anthropologists have not fully considered the racist context of the criminal justice system in the United States related to the treatment of Black, Indigenous, and People of Color; nor have we considered that ancestry estimation might actually hinder identification efforts because of entrenched racial biases," the researchers state in the study.
But other anthropologists disagree.
"If forensic anthropologists abandon determining race, then they are going to be doing victims and their families a big disservice and are basically engaging in a dereliction of their duty," said San Jose State anthropologist Elizabeth Weiss in an email to The College Fix.
"I think it's this weird phenomena; they want to place emphasis on the social construction of race (and racism), but want to deny the biological concept of race," Weiss said. "Nevertheless, they would never support making the argument that one can self-determine race."
Weiss said there is a strong movement against the "big three" racial classifications, Black, White and Asian.
"So far anthropologists have not been as good at determining the difference between Asians from various regions," she said.
The scientists arguing against racial classifications are concerned that using bones to identify race has too much of an echo of the racist pseudoscience of the 19th and 20th centuries.
In these more primitive scientific eras, researchers relied on pseudoscience like phrenology to measure the intelligence of blacks and Native Americans based on the size and shapes of their skulls.
"Ancestry estimation contributes to white supremacy," state DiGangi and Bethard in their study, adding that their analysis uses critical race theory to "continue to situate and contextualize our challenge to the use of macromorphoscopic (hereafter, morphoscopic) traits, as well as introduce critiques of craniometric and dental morphological analysis in ancestry estimation."
But Kyra Stull, a forensic anthropologist at the University of Nevada, Reno, joined with a number of fellow academics to push back against DiGangi and Bethard in their own letter to the editor to the Journal of Forensic Sciences.
"As part of the medicolegal community seeking justice for the deceased and closure for the living, forensic anthropologists must delicately balance the complicated relationships between population history, social constructs, and legal systems not only in ancestry estimation, but in the totality of the biological profile," Stull and the others wrote.
"Skeletal features can be used to make predictions about probable social race groups because of their correlations to local population distributions," they write, adding, "no empirical data indicate that forensic anthropological ancestry estimates promote racially biased investigative outcomes."
Allysha Winburn, a forensic anthropologist at the University of West Florida, set out to discover just how accurate racial identification of remains was.
According to an article in Science magazine, Winburn found that among about 250 resolved cases in which forensic anthropologists offered an ancestry estimate, they were around 90 percent effective in determining the person's social race.
However, in the cases where scientists classified remains as being of "mixed race" or "other," they were wrong around 80 percent of the time.
As a result of her research, Winburn has stopped providing racial ancestry estimates "until and unless she can take a population approach that doesn't focus on reductive racial categories."
Weiss said identifying remains by gender may be the next thing to go: "I suspect that the next problem that will arise in forensics is sex identification; maybe this is already a problem?"
ALERT: Check out our new Campus Cancel Culture Database!
IMAGE: Vika Lilu / Shutterstock
Like The College Fix on Facebook / Follow us on Twitter