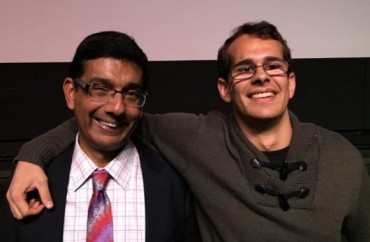 In high school, he was part of the Occupy Wall Street movement. In college, he's boldly challenging conventional wisdoms of the left, from writing columns in the campus newspaper criticizing leftist pillars such as feminist studies and affirmative action to lobbying the student government to pass a resolution in defense of free speech.
This seems an unusual transition for any college student. So what happened to Jason Garshfield, today a senior at University of California at Santa Barbara, to initiate such a change?
It began when he started to realize professors only gave him one side of the story, he said in an interview with The College Fix.
Fed up with the lack of ideological perspectives in his curriculum and on campus, Garshfield said he found the need to challenge his long-held beliefs during his freshman and sophomore years. He read major influencers like David Horowitz, Thomas Sowell and Jonathan Haidt, and their words, among others, began to change his ideological positions.
"As someone who was starting to become conservative, I was being exposed to things that made me very uncomfortable, and I got zero help with any of it," Garshfield said. "I had to figure it out myself."
At the same time, Garshfield said he started to question the motivation of activist peers at UC Santa Barbara, a campus situated right on the coastline that boasts a laid-back, hippie attitude.
"I was so happy to be going to this beautiful school, and some people were just so angry and ready to protest," Garshfield said. "So I started to question; I started to change."
Garshfield began to write opinion pieces which reflected his emerging ideology for the school papers The Daily Nexus and The Bottom Line. But this past fall and winter, Garshfield's opinions began to make big waves with no-holds-barred opinion pieces that took dramatic stands against leftist dogmas.
One need look no further than a sampling of headlines from his biweekly column in the Nexus: "The Ecosocialism Parasite," "UCSB's Free Speech Problem," "The Demonization of Greek Life," "Yale, Mizzou and Beyond: Have Protestors Lost Sight of Their Intentions?" and "Dissatisfaction with Affirmative Action" to name a few.
But it was his Feb. 1 column "The Failure in Feminist Studies" that finally brought fellow students into such a rage that one posted on social media that she wanted to "stab" him, and another wrote a response in the Nexus that basically accused Garshfield of white, male privilege. Online comments echoed such sentiments, calling him ignorant or a misogynist.
Undeterred, Garshfield's latest column took on the notion of "affirmative consent," another feminist tenant.
"People who meet me in real life, they find that… I'm not some one-dimensional, woman-hating, black-hating monster," Garshfield said. "I think it's a bit confusing for a lot of people, and it forces them to reexamine their notions that anyone who disagrees with them is a bad person."
RELATED: Sexual assault includes 'whistling,' 'unwanted phrases' at UC Santa Barbara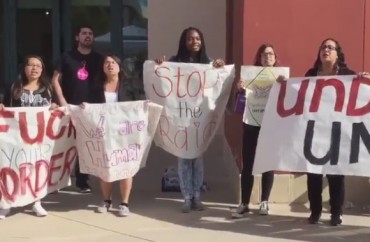 In another battle, Garshfield is taking on what he contends is a lack of free speech rights on campus. His concern dates back to 2014, when feminist studies professor Professor Mireille Miller-Young and two students stole a pro-life sign from a teenage campus protester, tussled her up when she attempted to retrieve her property, then tore up the sign.
"When confronted with a view in opposition to yours, coming up with a rebuttal is hard — It takes work and brainpower. But raging at them, verbally and physically attacking them and stealing their property — that's easy, and it's also fun! Who cares about some noble abstraction like free speech, when you can fuck shit up in the moment?" he wrote at the time.
RELATED: 'F*ck your borders' – Video shows rowdy UCSB students protest border patrol agents at campus job fair
RELATED: Protestors disrupt talk in support of traditional marriage at UCSB
The fight for free speech
More recently, Garshfield said he discovered UCSB sent freshmen a "Letter to Students: What it Means to be Part of the UCSB Community" over the summer that essentially warned students not to say things that might offend other students.
FIRE, a nonprofit educational organization dedicated to protecting individual rights on U.S. campuses, found the letter "casts a powerful chilling effect over a wide range of campus speech at UCSB" and constituted "a violation of UCSB's legal and moral obligations, as a public university, under the First Amendment." The policy in September 2015 was given a red light rating by FIRE, meaning it "clearly and substantially restrict protected student speech."
FIRE asked UCSB to "address the constitutional defects in its policy" by making it "clearly aspirational, rather than binding upon students under pain of surveillance and disciplinary action," and requested a response by Jan. 7.
While UCSB dragged its feet in responding to the organization's request, in contrast the administration almost immediately sent a campuswide response to students condemning the UCSB White Student Union Facebook page that appeared in December that many found offensive.
RELATED: University offers counseling, support meeting to students distressed by 'White Student Union'
"They could respond to a trolling Facebook page; they couldn't respond to free speech concerns," Garshfield said. "To me, that speaks of priorities that are obscenely backwards."
Garshfield decided to take matters into his own hands.
He went to UCSB's Associated Student Government with a proposal to pass a resolution in support of free speech that would directly address FIRE's concerns.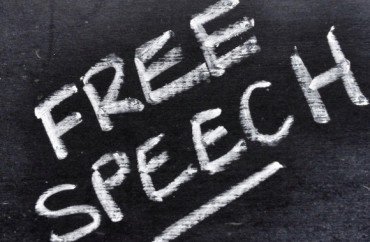 The proposal, although still in draft form, states "support for the right to free speech should not be taken as an endorsement by this Senate of any particular form of speech, and that we can support the right to free expression even when we strongly disagree with what is being said," as well as "that UCSB administration immediately work to amend all speech codes so that they no longer contain any language that infringes upon or threatens to infringe upon students' right to free expression."
The response from Associated Students was largely positive, according to Garshfield.
"I actually got an amazing amount of response, even from senators who I knew were more leftist," Garshfield said, "because there's no good argument against free speech, so…like 15 of the 25 wrote down their names, their contact info, on a piece of paper I passed around."
In his discussion with some senators since the meeting, Garshfield said he believes the resolution he wrote in conjunction with several other students seems likely to pass. It is expected to be voted on March 2.
As Garshfield finishes up his time at UCSB, he wants to continue to challenge the school's widespread leftist beliefs.
"I'm the one oddball who decided to take them on, and I'm a senior now, and I have nothing left to lose," Garshfield said. "It's hard at this point because I've punctured every sacred cow, and I don't know what there is left."
RELATED: UCSB nag session on White Student Union highlights students' ignorance of First Amendment
Like The College Fix on Facebook / Follow us on Twitter