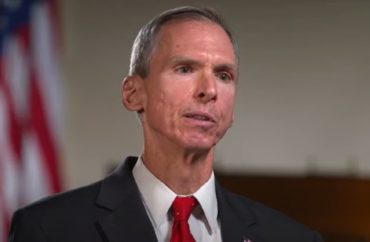 Conservative Democrat will use experience to mentor students
A former Democratic congressman with a conservative record on issues such as abortion and marriage has joined the faculty of the University of Dallas.
Former Illinois Congressman Dan Lipinski is now on the faculty of the University of Dallas and is currently teaching political science. He will teach again in the fall semester.
The new Pope Leo XIII Fellow shared his plans with The College Fix via email.
"I am happy to be returning to the classroom after having been an assistant professor at the University of Notre Dame and the University of Tennessee before I ran for Congress," Lipinski, who is Catholic, said.
"I am also mentoring a student who is interning in the Texas legislature. The fellowship also includes other engagements with students and the community including speaking at open events," he said.
Lipinski served in Congress from 2005 until 2021, leaving office after losing to a Democratic pro-abortion challenger, Marie Newman. Congresswoman Newman would subsequently lose in 2022 in a primary to Congressman Sean Casten after a redrawing of election maps.
While Lipinski was targeted by outside groups for his support for the sanctity of life and generally opposing efforts to redefine marriage and the LGBT agenda, he did side with liberals to support the Equality Act in 2019, a bill that had significant problems when it came to religious liberty, according to the United States Conference of Catholic Bishops.
The law would have forced religious schools to let men use women's bathrooms and would have put into law gender ideology without any protections for religious liberty.
"In casting this vote, I hoped to put myself in a position where I would have a future opportunity in the legislative process to protect religious freedom," Lipinski told The Fix. " I further demonstrated my opposition to parts of this bill by being the only Democrat in the House to not co-sponsor it and to vote for the Republican amendment to ensure that male athletes were not able to participate in women's sports."
He called his vote "symbolic" since it was slated to die in the Republican-controlled Senate and said he wanted to use his vote to ensure his voice was heard on religious freedom concerns.
He added:
The Human Rights Campaign, other LGBT activists, and their allies knew I stood in the way of the law they want and helped to defeat me.  I respect that some people disagreed with my decision on this particular vote.  However, there were few, if any, other members of Congress who demonstrated as much courage in the face of political risk as I did throughout my tenure.  I hope that I can encourage others to stand up for truth in their lives. 
Lipinski said the "intellectual rigor" at the University of Dallas was one reason behind his return to the classroom.
"About five years ago, I felt called to put more time into teaching and mentoring young people," he told The Fix. "Since I have a Ph.D. and was teaching at the college level before I entered Congress, I was excited when UD reached out to me about the fellowship."
"As I said when my appointment was announced, I look forward to drawing upon my knowledge and experiences to educate students about applying faith and reason to help them grow as virtuous leaders in their family, community, country, and church," he said.
"Since UD students are steeped in the Western heritage of liberal education, I know that they are used to intellectual rigor and will challenge me to think and learn along with them in the classroom," he said.
The university hopes the congressman can impart his political experience and bargaining skills to the university and help students.
Congressman Lipinski "has built a reputation for fostering dialogue across parties, is the latest such addition, and he will be able to educate our students about the workings of government in a way that few others can," Clare Venegas, vice president of communications, told The Fix via email.
Venegas said Lipinski has a reputation as a politician who "thinks and acts independently of partisan politics."
Lipinski's appointment fits well with the mission of the university to pursue "truth and wisdom through civil discourse," the spokeswoman said.
MORE: Benedictine College students fight for sanctity of life
IMAGE: EWTN/YouTube
Like The College Fix on Facebook / Follow us on Twitter