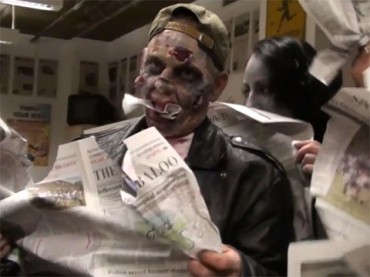 Maybe it was just students in the past 10 years who decided that the newspaper op-ed page should only accept opinions that are already popular.
Former editors of the Wesleyan Argus, going back to the late '60s all the way through the mid-aughts, wrote a letter to the editor decrying the politically motivated defunding of the Argus in response to an op-ed mildly critical of the Black Lives Matter movement.
Signed by more than 50 former editors, including the labor and workplace reporter for The New York Times, the letter describes how the Argus affected them:
We are teachers, lawyers, doctors, scientists, government workers, corporate executives and investment bankers, among other professions. Many of us are also journalists at outlets such as The Wall Street Journal, The New York Times, USA Today, NBC News, CNBC, MSNBC, National Public Radio, The Associated Press, Vanity Fair, the Forward and The Minneapolis Star Tribune. The Argus played a crucial role in our development as writers, leaders, critical thinkers, skeptics and justice seekers. We believe in nuanced argument and the illumination of the truth even if it means overturning preconceived notions about an issue or an idea. We also believe in the value of exposing ourselves—and our readers—to perspectives different from our own in order to learn and grow.
RELATED: Threats and intimidation work, no matter how Wesleyan student leaders spin it
Chopping more than half the Argus budget and forcing the paper to re-apply for it in a popularity contest is not the way to shape its content, they write:
An op-ed is by definition the opinion of its writer and doesn't represent the views of the paper or its editorial board. Indeed, The Argus has long printed virtually all of the opinion pieces submitted to it, a fact that undermines accusations that it is somehow excluding, or favoring, certain voices. …

Some have pointed out that the time commitment required to work at the paper makes it difficult for students who need to earn an income to work there. Yet many of us were work-study students and still found time to write for The Argus. Moreover, slashing the paper's budget makes it less likely that it will be able to pay its staff members.
Submit an op-ed if something bothers you in the Argus, they urge the paper's critics.
They compared the Wesleyan student government to "authoritarian regimes" in their treatment of the media, and warned that the world is watching:
The national news media's negative coverage of this issue has made Wesleyan a poster child for the enforcement of hyper-political correctness at the expense of free speech on college campuses. It reflects poorly on you, on the university and on the greater Wesleyan community. …

Please do not let this decision define your legacy at Wesleyan.
h/t Foundation for Individual Rights in Education
RELATED: White student columnist tormented by Black Lives Matter activists for op-ed critical of movement
Like The College Fix on Facebook / Follow us on Twitter
IMAGE: Student Press Law Center/YouTube