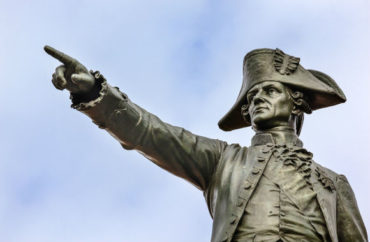 It's state budget cuts that put us in the toilet
Students are leaping to the University of Missouri's defense after a front-page New York Times report attributed plunging enrollment to racial protests that embroiled campus in fall 2015.
Mizzou's defenders say the report unfairly blames racial activists instead of state budget cuts for Mizzou's 35 percent enrollment decline over the past two years.
They are running headlong into UM System President Mun Choi's own claim that the "general consensus" for Mizzou's troubles is the "aftermath of what happened in November 2015."
The president of Mizzou's student government went so far as to claim that students who set up a tent city – and kicked out student journalists trying to cover the protests – would have been applauded by America's original revolutionaries.
'National reporters from every major outlet get the story wrong'
In a Kansas City Star op-ed Monday, Missouri Student Association President Nathan Willett said Times higher education reporter Anemona Hartocollis gave an "unreasonably and inaccurately bleak" portrayal of the political atmosphere on campus.
"The protests were entirely peaceful and nonviolent," Willett wrote, "yet rather than celebrating this example of exactly the kind of civic expression our Founding Fathers had envisioned, this university has been repeatedly punished for it by the national press and our own state legislature." He faulted Hartocollis for interviewing him but excluding his perspective from the story.
Another student who said Hartocollis interviewed him but left out his material told The College Fix in an email he was unhappy with her reporting.
The reporter's "narrative" – that "black students ran amok and have now scared students away" from matriculating – "is not only reductive but unequivocally wrong," said Christopher Dade, president of the Mizzou branch of the Associated Students of the University of Missouri, which lobbies for public funding for the UM System.
MORE: Contra NYT, college Trump supporters not calling for 'safe spaces'
Dade said he had no misgivings about being interviewed by the Times and "assumed it was more an investigation into what was causing the decline in enrollment, not another attempt to link the decline almost solely to the protests."
Asked to characterize his remarks to the Times, Dade said he had emphasized extensive losses to state appropriations for higher education as a major factor in Mizzou's budget woes. He also said he criticized negative media coverage for demonizing Mizzou.
"[I]t has been nothing but frustrating for those of us on campus," he said, "both in the fall of 2015 and now, to see national reporters from every major outlet and even more partisan 'publications' get the story wrong about what was happening on campus, why it was happening, and where the University was moving from there."
Hartocollis did not respond to a Fix request via Twitter direct message Tuesday for her response to Willett's op-ed. Willett did not respond to a Twitter direct message or email query this week.
MORE: Doughnut shop near Mizzou blames Melissa Click for going out of business
Important context: the reporter was told about other factors contributing to declining enrollment, but that didn't really fit her objective https://t.co/GFgPlON7nz

— Christopher Dade (@ChrisMDad) July 10, 2017
It's a classic mistake of reporters who didn't come to campus Fall 2015; she did, and still got it wrong in so many ways

— Christopher Dade (@ChrisMDad) July 10, 2017
We're a 'Best Buy' college
University leaders Tuesday promised to "set the record straight." A statement signed by interim Chancellor Garnett Stokes, Chancellor-Designate Alexander Cartwright and System President Choi said "key aspects of our story were omitted" from the Times report.
They touted Mizzou's "Best Buy" designation in the 2018 Fiske Guide to Colleges released Tuesday, as well as its social justice-centered spaces including the Multicultural Center and Black Culture Center, "long-standing supportive pillars to our diverse student population."
"We are learning from our past while serving as a model for a new engaged university to the nation," they wrote. "That's not the story you read on Monday, but it's one you will hear often from the Missouri family."
Setting the record straight– Response from leaders on the New York Times story. https://t.co/3CgvK0RNZK

— Mizzou (@Mizzou) July 11, 2017
At a Southeastern Conference press conference Wednesday in Alabama, head football coach Barry Odom dismissed the Times' article as narrowly focused.
"Locally, nationally, worldy [sic], whoever's writing the article, let's look at the big picture," he said, according to the St. Louis Post Dispatch.
Now in his second year at Mizzou after the resignation of coach Gary Pinkel – who supported his players' threatened strike to force the resignation of former System President Tim Wolfe in 2015 – Odom extended an open invitation to Hartocollis and other media to spend a day with him on campus before writing critical news stories about Mizzou.
"Let's get all the facts before we write an article that doesn't contain every fact that's out there," he said.
It is perhaps now our collective duty to focus on the students that are here @Mizzou more than on the ones that aren't. #NotSquandered

— Stephanie Shonekan (@SShonekan) July 10, 2017
MORE: Governor candidates promise to clean house at Mizzou
Like The College Fix on Facebook / Follow us on Twitter
IMAGE: Bill Perry/Shutterstock