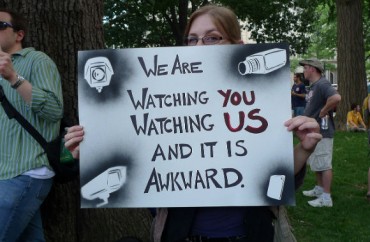 Frat president threatens 'extensive legal battle' if school goes through with draft
Fraternities and sororities could find their residences searched without a warrant – even those that are privately owned – under a rule being considered by Indiana University-Bloomington.
Though the explosive proposal has drawn little attention since two students flagged it in the school paper in November, a fraternity president told The College Fix in January that Greek leaders are prepared to go to court to stop warrantless searches.
The draft addendum to the IUB-Greek housing contract was circulated this past fall and apparently drew immediate opposition.
It reads: "Housed F/S Organizations agree that University officials, including IU Police Department officers, have the right to enter and inspect any and all rooms within Housed F/S Organization buildings at any time. Housed F/S Organizations must include the following language in its housing agreements with each member: '[Tenant] agrees that the premises of the house, including all common areas and private spaces, are subject to inspection by Indiana University officials, including IU Police Department officers, at any time and for any reason.'"
Greek-life students lodged complaints about the addendum language at an Oct. 25 town hall meeting, according to Matt Shute, president of the Tau Kappa Epsilon chapter at IUB and leader of the opposition.
Shute shared a Dec. 22 email with The Fix from Associate Dean of Students Steve Veldkamp in response to the negative feedback two months prior.
The university has "logged every comment from both the in-person meeting as well as those who could not attend," Veldkamp wrote, explaining the slow response as a result of "a few campus and fraternity crises." The email links to a list of "University Organizations Subject to Discipline" with five Greek organizations hit with suspensions or probations since August, for offenses ranging from alcohol to creating an "unsafe environment."
It was unclear from Veldkamp's email whether the school was considering dropping the addendum language in response to protests. Shute told The Fix Monday that "the revised version of this addendum has not been released yet" – three months after frat leaders complained.
A Fix email to Veldkamp asking for further clarification went unanswered, as did an inquiry to the university's media relations office.
Indiana Daily Student columnist Steven Aranyi, himself a frat member, wrote in November that IUB was "trashing students' constitutional rights" in order to protect its image in the wake of a sex-video scandal that led to the surprise eviction of an entire chapter from its house.
"Unfortunately, universities around the country are all vying to maintain their respective images in the wake of incidents concerning Greek life," Aranyi wrote.
'I'm not holding my breath' it will be changed
The addendum language stands in stark contrast to this academic year's "A to Z Guide to Residence Hall and Furnished Apartment Living," which does not apply to Greek housing.
It tells non-Greek students their right against "unreasonable search and seizure is constitutionally guaranteed" and that "no provision in the housing contract gives residence hall officials the authority to consent to a search of a resident's room or apartment by police or other government officials."
Shute said in an email "I'm not holding my breath" that the problematic language will be removed, which is why he is "personally organizing a student protest that will unify the Greek community and hopefully students in general" against the singling out of Greek life.
The astrophysics and economics major said he was met with "what can politely be called a patronizing attitude" when he confronted Veldkamp over the proposed addendum.
"I'm all for cracking down on dangerous and illegal activities if constitutional rights are respected," Shute told The Fix, explaining that in his home of Lake County, Ind., police can call upon a "night judge" to consider issuing a warrant on the spot in response to suspicious behavior in a frat house.
"From speaking with various IU officials, I've gathered that there doesn't seem to be any knowledge of IUPD having this capability," Shute said. It would be quicker and cheaper to set up a night-judge system with the city of Bloomington or Monroe County, rather than waste a year or two in "an extensive legal battle" with fraternities, during which time "IU would most likely not be allowed to enforce the warrantless search policy," he said. Shute's fraternity has already retained a lawyer, he added.
Shute cited decisions from the Kentucky Supreme Court and an Ohio appeals court in the past five years as evidence that courts in the region view warrantless frat searches as unconstitutional.
The Fourth Amendment implications of the addendum apparently didn't stir the outrage of IUB students last fall.
"Do we really want our public university to strong-arm its students into letting police enter the rooms of their Greek houses — many of which are on private property — at any time?" law student Casey Leech wrote in the Indiana Daily Student: If Greeks are fair game, "what's to stop [IUB] from ultimately coercing all of its students to relinquish their freedoms?"
Like The College Fix on Facebook / Follow us on Twitter
IMAGE: Susan Melkisethian/Flickr
Like The College Fix on Facebook / Follow us on Twitter