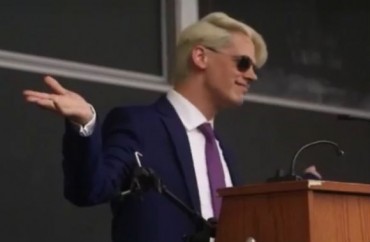 Approximately 100 professors at the University of California Berkeley have signed on to a letter asking the school chancellor to cancel the February 1 appearance by conservative provocateur Milo Yiannopoulos.
According to The Daily Californian, the January 3 letter originated with a dozen professors who deem Milo's conduct "harassment, slander, defamation, and hate speech," and as such violates the college's code of conduct.
Nearly 90 additional profs have signed on since.
"We believe wholeheartedly in free speech and in the presentation of views that may be controversial or disturbing, politically or personally," said David Landreth, one of the 12 who composed the letter (and whose "main expertise" is materialism — "in its Marxist, ancient, and 'new materialist' manifestations").
"However," he added, "Mr. Yiannopoulos's public talks routinely veer into direct personal harassment of individuals; they often also call for such harassment and aim to incite it."
The authors also questioned the cost of security for the event, asking in the letter how the estimated security costs of $10,000 will help the campus prevent harassment during the event.

"UCPD's primary goal is the safety of the attendees and the speaker," said UCPD Captain Alex Yao, the officer overseeing UCPD security for Yiannopoulos's talk. "(We are) basically coming up with a basic security detail to ensure safety of the event, regardless of who the speaker is."

The cost has not yet been finalized, but it is estimated that about 45 police officers will attend the event to handle crowd control and protest demonstrations, according to Yao. Campus spokesperson Dan Mogulof said in an email the campus will pay security costs not included in the basic security detail that may occur. …

MORE: College Repubs leader threatened by school employee for hosting Milo

In response to the letter, Associate Chancellor Nils Gilman said the university would not engage in a "prior restraint of speech," as the First Amendment prohibits the campus administration from restricting invited speakers based on their viewpoint.

"The University may not engage in prior restraint of speech based on concern that a speaker's message may trigger disruptions," Gilman said in the letter. "We also note that at the heart of these constitutional rules is the objective of preventing opponents from effectively shutting down expressive activity that they don't like, the 'heckler's veto' as it is often known."
The original 12 profs responded to Gilman by reiterating Landreth's point — that "freedom of speech did not override the campus's responsibility to protect students from harassment."
h/t to Gary Fouse
MORE: Milo appearance at NYU scrapped due to 'security concerns'
MORE: Ohio students protest Milo visit by 'Growing a Garden of Love'
Like The College Fix on Facebook / Follow us on Twitter
IMAGE: YouTube