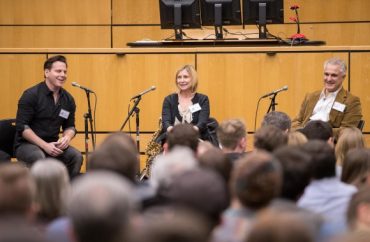 PORTLAND, Ore. — In arguably one of the most progressive cities in the nation, plans by the anti-fascist activism group Antifa to shut down a pro-free speech event at Portland State University were abruptly halted.
With that, "The New Campus Thought Police" took place Friday evening with only a minor demonstration outside, a few hecklers inside, and possibly some changed hearts and minds.
More than 300 people, mostly students, attended the "fireside chat" at Portland State, featuring host of "The Rubin Report" Dave Rubin, American Enterprise Institute resident scholar Christina Hoff Sommers, and Portland State philosophy professor Peter Boghossian. The event was co-organized by the Center for Inquiry, Portland and Freethinkers of PSU.
Despite the fact that the talk featured a popular gay talk show host and was hosted by two secular humanist organizations, the Rose City Antifa, a Portland-based chapter of the Antifa movement, still called for their members to shut it down. Antifa is an international self-described "anti-fascism" movement, and some of their protest methods include violence.
Antifa NYC told The Nation that the organization "combines radical left-wing and anarchist politics … with the international anti-fascist culture of taking the streets and physically confronting the brownshirts of white supremacy, whoever they may be."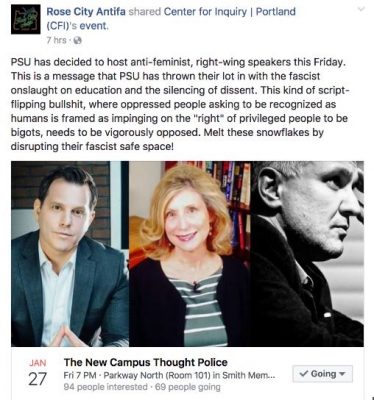 That Hoff Sommers and Rubin are Jewish did not seem to faze the agitators.
"PSU has decided to host anti-feminist, racist, and homophobic speakers," Rose City Antifa said on their Facebook page. "Melt these snowflakes by disrupting their fascist safe space!"
And in fact Antifa launched an additional "phone jam" campaign to try to inundate Portland State administrators with complaints. The group even went so far as to demand that Boghossian's philosophy department chair intervene to stop the event. On social media, the group alleged that the public discussion would disempower "women, queer people, trans people, Muslims and POC."
Despite the organized effort to mobilize mass disruption, Antifa abruptly called off the protest less than two hours before the event began.
"As we have learned about the intention of other organizations to attend this event in an effort to create a counter narrative to Sommers, we have decided to not move forward with our planned disruption," the group said in a statement posted on social media.
Outside the venue, a small group of peaceful protesters warned attendees about the event and passed out informational pamphlets on safe spaces and microaggressions.
When the speakers walked on stage, they joked about the misguided or misinformed efforts of Rose City Antifa.
"They were saying we were anti-LGBT," said Rubin, who is married to a man. "I did some pretty LGBT stuff last night." The audience roared in laughter. Rubin quickly added, "Actually, there was no 'L' stuff."
Some audience members later attempted to heckle the speakers when they spoke in defense of universal free speech. Referring to the incident where white nationalist Richard Spencer was assaulted on camera, Boghossian said that civil society cannot normalize and tolerate violence against people who espouse deeply offensive views.
"The semantic range of the term 'Nazi' has expanded," Boghossian said. "If you beat somebody with a ridiculous idea, they don't suddenly lose that idea … You deny that person the opportunity to enter a rational community."
Speaking about gender studies departments, Hoff Sommers lamented that the field had become an echo chamber.
"Gender studies has ruled out dissidence," she said. "There is a complete absence of the counterpoise."
The conversation later shifted to the state of left-wing politics.
"I've come to believe that the left is no longer liberal," Rubin said, citing what he sees as the decline of classic liberal values and principles.
"I don't recognize the left anymore … I see the face of fanaticism," added Hoff Sommers. "It's almost as if it's a cult."
After the discussion, audience members were invited to engage in a question and answer session. Some expressed their disagreements with the speakers but the exchange remained civil and calm. Most thanked the speakers for their defense of free speech and empiricism in academe.
Editor's note: Andy Ngo was involved in organizing the event on behalf of Freethinkers of Portland State University.
Photo credit: Bill Dickens
MORE: Portland State activists condemn capitalism
MORE: Mob storms PSU 'Students for Trump' meeting
Like The College Fix on Facebook / Follow us on Twitter