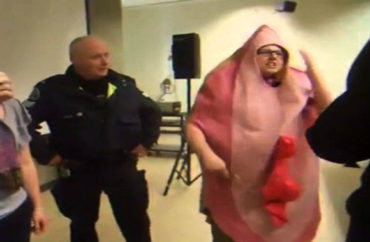 University did nothing to stop 'predators' who targeted her
Wilfrid Laurier University investigated a graduate student for provoking the ire of a transgender activist (below) who previously dressed up as a "giant vulva" to protest a member of Canada's Parliament.
This is only one of the colorful allegations in Lindsay Shepherd's $3.6 million lawsuit against the Canadian university for the harassment, "bullying" and "intentional infliction of nervous shock" she has endured because of the school's actions since last fall.
WLU's investigation of Shepherd for showing her undergraduate class a TVOntario debate on gender-neutral pronouns, featuring psychologist Jordan Peterson, is just the tip of Shepherd's June 12 "statement of claim" in the Ontario Superior Court of Justice.
In addition to naming two faculty members and an administrator for their role in the classroom investigation – at one point calling them "predators" – the suit details separate occasions of alleged harassment and silencing by university personnel.
Attacks on the teaching assistant have "rendered her unemployable in academia," leading her to abandon her plans to get a Ph.D. or even teach as a master's graduate.
They have also given her "nervous shock," which was either "foreseeable and intended" or "reasonably foreseeable" and "negligent" of the defendants, the suit claims.
The university itself "created an environment supporting and facilitating, acquiescing to and implicitly, and sometimes explicitly, endorsing that conduct."
MORE: Canada's Mizzou? Enrollment plunging at Wilfrid Laurier University
Shepherd's lawyer Howard Levitt, who suggested the classroom investigation was a "trap" before it concluded, includes many rhetorical flourishes in the litigation.
In particular he defends the reputation of psychologist Peterson against attacks by the defendants when they cornered Shepherd after the classroom incident.
One of them, Prof. Nathan Rambukkana, told Shepherd that playing a clip of Peterson with no prior context is like "neutrally playing a speech by Adolph Hitler." The suit responds:
Ironically, rather than being a present-day personification of Adolf Hitler, as Rambukkana implied, Jordan Peterson has spent decades educating his students about the evils of the holocaust and specifically, as part of his psychological teachings, he has studied and taught how individuals degenerate ethically to the point where they take part in atrocities.
The three individual defendants did not respond to multiple email inquiries from The College Fix requesting comment on Shepherd's claims against them. Shepherd also did not respond to Fix queries, but Levitt provided a copy of the statement of claim.
MORE: Canada's Conservatives challenge Liberals with campus free speech plan
'Repercussions' if she disclosed trans activist's 'ludicrous' complaint
Most of the allegations about Shepherd's original meeting with the defendants are not new, given that she secretly recorded and posted the conversation, leading to her international renown as an academic martyr.
Other events have been covered in detail by The Fix, including Shepherd's subsequent feuds with the next professor to whom she was assigned as a teaching assistant.
The latest and previously unreported incident was the "final straw" for Shepherd, convincing her to file suit, she tweeted Wednesday.
The suit alleges a student and "Trans Gender Activist" named Ethan Jackson filed a "formal, patently frivolous" harassment complaint against Shepherd after classes had ended for the year, when she would never see him again.
Jackson has been "invariably hostile to Shepherd" going back to last fall's controversy. His allegations are "inherently vexatious, bad faith and frivolous," and the complaint itself "inherently self-contradictory, ludicrous and narcissistic."
Yet the university launched a "formal investigation" anyway, summoning Shepherd and threatening her with "repercussions" if she disclosed Jackson's complaint.
MORE: WLU faculty afraid for 'physical safety' but won't detail threats
I can handle all this, but universities need to know that this stuff is unacceptable. Despite ppl urging me since Nov, I didn't want to sue. I still feel ambivalent about it. But the harassment and discrimination complaint (details are confidential) was the final straw.

— Lindsay Shepherd (@NewWorldHominin) June 13, 2018
The activist alleged Shepherd was on her phone and disengaged during a class, and that she harassed him by tweeting screenshots of Jackson's "controversial" Twitter account, since marked private.
Jackson identifies as a "white trans anarcha-queer-feminist settler visiting haudenosaunee and anishnawbe territory," and uses the gender pronouns "he/him" (below).
Shepherd called him "petty and pathetic" after Jackson "angrily" ordered her to leave the printing room, where she was printing her coursework, according to the suit's characterization of his complaint. He also claimed Shepherd and other members of the Laurier Society for Open Inquiry "followed him and his colleague" while the club members were posting "offensive" posters for its club meeting. Jackson admitted to removing the posters "without authorization."
The suit suggests WLU should have known Jackson was not to be taken seriously.
The activist ran a crowdfunding campaign to pay for a sex-change operation, "which was initially denied because of his mental health issues," it claims. Jackson was also banned from the University of Waterloo in 2013 "for protesting and deplatforming a Member of Parliament who was to give a speech on abortion, by dressing up as a giant vulva and yelling" (below).
MORE: LGBT center was behind complaint against Shepherd
Fake apologies, no punishment for breaking university rules
Shepherd accused Rambukkana, her previously "indifferent mentor" in the communications department; Herbert Pimlott, the coordinator of the master's program; and Adria Joel, then-acting director of the Diversity and Equity Office, of creating a "poisoned work environment" against Shepherd in violation of university policy.
They "lambasted" her in the meeting called by Rambukkana and made outlandish claims based on her showing the debate clip to her class – that she had violated Canadian law, was a "protegee and supporter of Peterson," and had targeted "Trans Folks."
"They continued to abuse her even after she began sobbing, accusing Shepherd of causing harm to unnamed students," while refusing to detail "even the number of complaints" against her and suggesting her job was at risk.
Their behavior was "objectively outrageous and flagrant" and violated multiple provisions in the university's Procedures Relating the Prevention of Harassment and Discrimination. Shepherd also alleged that Jackson's complaint was investigated without regard to these rules, which require prior consideration of "other efforts" to resolve complaints.
The university has also not taken disciplinary action against Rambukkana, Pimlott and Joel for making discrimination and harassment claims against Shepherd that are "reckless, malicious, or not in good faith," as available under these rules. Neither has it protected Shepherd "from their predations."
The suit portrays the various apologies to Shepherd from WLU professors and officials as disingenuous and driven by "public and alumni outcry."
MORE: WLU admits violating rules to investigate Shepherd
President Deborah MacLatchy (left) "refused to acknowledge" Shepherd's innocence in an interview on the same program whose clip she showed in class, and Rambukkana "continued to lie" by claiming someone had indeed filed a complaint against Shepherd.
Despite an apology from MacLatchy, acknowledgement the meeting with Shepherd should not have occurred and that no complaints were filed against her, MacLatchy made the "entirely false" claim that the university would protect Shepherd:
Shepherd has never received redress of any kind nor has she been consulted about the input that this treatment has had on her and her career prospects. Instead, she was subjected to continuing abuse and atoxic climate from the University and its representatives …
The chair of her department, Peter Urquhart, offered Shepherd's undergraduate students "emotional support" but not her when he sat in on her first class session after the public outcry, undermining her role and preventing "any discussion of the issue."
Urquhart then "publicly insult[ed]" and "intimidate[d]" Shepherd by suggesting to a magazine that she had also secretly recorded that class session. Another professor did the same in one of Shepherd's classes, "further alienating and creating a toxic environment for Shepherd."
MORE: Professor bans laptops to prevent Shepherd from recording her
Lindsay Shepherd's $3.6 million lawsuit against Wilfrid Laurier University and individual defendants by The College Fix on Scribd
Canceled her class for 'copying two Deans' on a message
Further contradicting the university's claim that it wouldn't let another situation like Shepherd's happen again, WLU assigned her to a professor, Judith Nicholson, who had publicly supported Rambukkana and Pimlott against her. This created a "poisoned environment" from the start.
Nicholson "deliberately created difficulty" for Shepherd's academic and career success, and "harassed and abused" her new teaching assistant three times, the suit claims.
In one, Nicholson threatened Shepherd's position at the university for tweeting about Shepherd's disagreement with the "land acknowledgment" on Nicholson's syllabus. Their dean had to intervene to rebuke Nicholson's claim that the acknowledgment was her "intellectual property," and called an "urgent meeting" with Shepherd's two departments.
In another incident from March – apparently unreported – Nicholson retaliated against Shepherd for "copying two Deans" in a message seeking to reschedule her last class of the year as a TA.
Nicholson falsely claimed Shepherd had already acted without her consent and canceled her class unilaterally, telling her students to attend sessions with other TAs on dates that Shepherd had open, the suit claims.
MORE: Shepherd beats copyright infringement charge
And your supervising prof tried to report you to the Deans for copyright infringement for posting an image of a land acknowledgment from a course syllabus. When that didn't work, they report you to the Deans for asking to reschedule a tutorial.

— Lindsay Shepherd (@NewWorldHominin) June 13, 2018
In an email to The Fix, the administration said it will "vigorously defend" against Shepherd's claims.
"Since Ms. Shepherd first raised her initial concerns, the university has taken numerous measures to address the matter, including issuing an apology to Ms. Shepherd. That apology still stands," it said.
It has also developed steps "including training, a review and update of university policies, and the establishment of a task force that prepared a Statement on Freedom of Expression that was approved by the Senate of Wilfrid Laurier University and endorsed by the university's Board of Governors."
The school said the "vast majority" of its students report an "overwhelmingly positive experience" as evidenced by its top "student satisfaction" ranking in Canadian magazine Maclean's for the past two years. WLU didn't mention that its enrollment plunge for this fall is the steepest in its province of Ontario.
David Haskell, a WLU journalism professor and early supporter of Shepherd, told The Fix he hadn't seen the suit and couldn't comment on it.
MORE: Haskell quits free-speech task force to protest steep security fee
MORE: LGBT center wants more money because of gender-neutral pronoun debate
IMAGE: Blazing Catfur/YouTube, Ethan Jackson/Twitter, Deborah MacLatchy/Twitter
Like The College Fix on Facebook / Follow us on Twitter