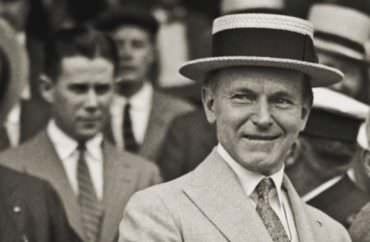 The only thing that distinguishes Calvin Coolidge's gravestone from those surrounding his is the presidential seal on top.
"His grave is no taller than the others around him," said Matthew Denhart, executive director of the Coolidge Foundation. "I think it's very fitting for his humble reputation."
Humility is one of the qualities judges look for when deciding who will be awarded the distinguished Coolidge Scholarship. Academic excellence, interest in public policy, appreciation of Coolidge's values, and service are among the others.
The scholarship, a project of the Coolidge Foundation, is a full-ride, merit-based presidential scholarship awarded to three high school students every year. It pays for all four years of the recipient's college career, including tuition, room and board, and books.
"Our vision is to educate more Americans about President Coolidge and his values and how they are relevant today," Denhart said. "We wanted to create a reward to honor him and that would also get the attention of Americans across the country."
The program aims to honor the traits associated with Coolidge, including truth, honesty, integrity and hard work.
The winners are chosen by merit; it's need-blind, color-blind and gender-blind.
"If you work hard and study hard, you can be rewarded no matter what your background is," Denhart said.
The scholarship program was launched in 2016, and recipients can use the scholarship for any university of their choosing to which they are admitted.
The application period for this year's scholarship launched this month and is open to high school juniors. Finalists will be determined in the spring.
Most Americans don't know much about the 30th president of the United States, except perhaps that he was thrust into office after President Harding's sudden death. He served from 1923 until 1929. But President Coolidge, a Republican, also loved public speaking and debating. He valued civility, restrained government and principles. His birthday is the same as the birth of our nation. He was a lawyer, but did not go to law school, earning the title by exposure to the practice as an apprentice and then taking the bar exam. And in his free time, Coolidge translated Dante into English.
The 2013 book "Why Coolidge Matters: Leadership Lessons from America's Most Underrated President" praises the leader as "the last president to pay down the national debt," adding his tenure can offer lessons on "limited government movement in the post-industrial age."
An early pioneer of Civil Rights, Coolidge was a speaker for a Howard University graduation in 1928, visiting the historically black college when others would not.
Applicants are asked to read Coolidge's autobiography to better understand the values he espoused. Ten finalists are chosen to go to Woodstock, Vermont, where they are welcomed, interviewed, and get to explore historical sites related to Coolidge, including his grave. Three winners are chosen from this group.
About 2,300 students completed the application process in the program's first year. Some 221 of the applicants ranked first in their class. The three inaugural recipients of the Coolidge Scholarship are currently first years, two at Harvard University and one at Rice University.
It's not just a scholarship, but a program. Recipients spend one week each summer throughout their college careers helping facilitate the Coolidge Presidential Debate and Policy Institute, another program of the Coolidge Foundation. Recipients also attend seminars and a gala.
There is also a spin-off program that the top 2 percent of applicants, called Coolidge Senators, can participate in. The Coolidge Senators spend a week in Washington D.C. the summer before their senior year in high school, taking a tour of the capital, attending seminars and debates, going on a dinner cruise on the Potomac, and staying at the Willard Hotel, the same hotel Coolidge lived in during his vice presidency.
"What's really valuable for the students is the opportunity to meet each other," Denhart said.
The overall idea is to build a community, similar to a Rhodes Scholarship, that will have a lasting impact for the recipients and the country in advancing the ideals for which Coolidge stood, organizers say.
Applications are due by Jan. 24, 2018. More info is available here.
Like The College Fix on Facebook / Follow us on Twitter