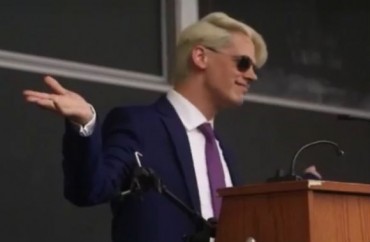 The College Fix has obtained the full video of Breitbart.com technology editor Milo Yiannopoulous, who is gay, launching his "Dangerous Faggot Tour" in the U.S. with an appearance at Rutgers University – one of the few schools to not cancel his tour date.
Matthew Boyer, who hosted Yiannopoulos's appearance on behalf of the campus chapter of Young Americans for Liberty, wrote about the event featuring the self-proclaimed "fabulous supervillain" and critic of feminism for The Fix last week.
The video is now embedded in Boyer's original article.
Watch the video in the article.
Like The College Fix on Facebook / Follow us on Twitter
IMAGE: YouTube screenshot