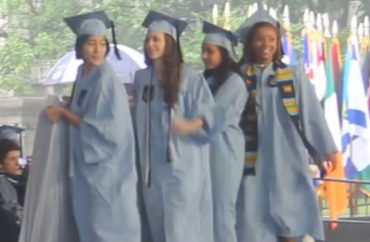 Stop taking settlements and fight the system
When Paul Nungesser settled his gender-discrimination lawsuit against Columbia University, the former student accused of rape by "Mattress Girl" Emma Sulkowicz allegedly received a financial windfall.
In return, Columbia got to write a favorable press release announcing the resolution, keep the settlement terms confidential and protect its sexual-assault adjudication system from outside scrutiny.
Great for Paul, but useless for everyone at Columbia who might face the same campaign of harassment from an accuser and apparent acquiescence from the university, which gave Sulkowicz academic credit (and the graduation stage) for her "Carry That Weight" project that publicly declared Paul a rapist (with help from a sitting U.S. senator).
And remember that Paul was exonerated by a university tribunal, even under the extremely low evidence standard of "preponderance" and without the protections he'd receive in a court of law, such as the right to see evidence against him and cross-examine his accuser.
What incentive does Columbia – or any college – have to ensure accused students are treated fairly and not harassed with impunity going forward?
The answer is none, as long as cases continue going to settlement, New York Post columnist Naomi Schaefer Riley writes:
For universities, handling sexual assault — like almost everything — is a matter of money. And so far the suits by those falsely accused — and often falsely convicted, suspended or publicly shamed — have not been expensive or frequent enough to deter schools from these witch trials.
She's skeptical that the Trump administration and Department of Education leaders including Candice Jackson, the acting chief of the Office for Civil Rights, will follow through on their verbal promise to level the playing field for accusers and accused students, particularly given Jackson's apology for her widely misunderstood "90 percent" quote.
That "leaves it up to others to make colleges feel the financial pain for the abominable way they have treated these men," Riley says – and that means wealthy families need to step up to the plate when their children are falsely accused and swing for the fences, not settle for a hit-by-pitch.
She quotes Stuart Taylor, co-author of The Campus Rape Frenzy and Brookings Institution scholar, who says the goal should be trial:
You could sue every single member of the administration who was part of case. You could add the woman as a defendant and any activist who participated. Punitive damages could be tens of millions of dollars.
And Harvey Silverglate, co-founder of the Foundation for Individual Rights in Education and civil rights lawyer, tells Riley the "embarrassing stuff" can only come to light when a suit survives dismissal and enters discovery – the equivalent of exposing a college's dirty laundry to the public.
One thing I'd love to see exposed at trial, should a brave plaintiff forgo a faster payout and take on the (university) system itself, is a demographic breakdown of accusers, accused and witnesses.
A law professor who has participated in campus sexual-assault proceedings at two elite universities has testified that accusations are disproportionately lodged against students of color. I suspect it's largely white women making these accusations, given their numerical dominance in college enrollment and the historical persecution of black men on the basis of their interactions with white women.
Perhaps due process on campus – where accused black students are discarded when they are no longer profitable – could become the next grassroots cause for the Black Lives Matter movement.
Like The College Fix on Facebook / Follow us on Twitter
IMAGE: Columbia Daily Spectator/YouTube