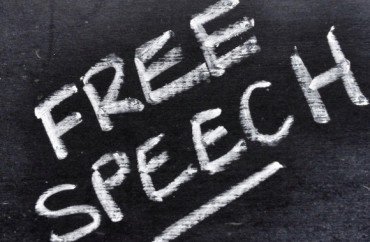 A Gallup poll on Pomona College's "Perceptions of Speech and Campus Climate" has been released, and if you're a regular reader of The College Fix you'll find the results not at all surprising.
As reported by the Claremont Independent, almost 90% of students surveyed said "the campus climate prevents them from saying something others might find offensive." Nearly two-thirds of faculty feel the same.
When it comes to political ideology, 75% of conservative and moderate students strongly agree that the school climate hinders free expression — "nearly 2.5 times higher than very liberal students."
In response to the statement "More important for colleges to prohibit certain speech or expression of viewpoints," 75% of "very liberal" students and 49% of "liberal" students agree, while only 20% of "very conservative, conservative, [and] moderate" students do. The statement "More important for colleges to allow all types of speech and viewpoints" results in a mirror image of those percentages.
Some students echoed the sentiments of these results. One rising sophomore told the Independent on the condition of anonymity that "[m]ore than being afraid of saying things that others could find offensive, I think a lot of people on campus, including myself, feel like if they say anything that goes against the surface level campus culture dogma, they could be socially shunned."

"The fact that I'd rather be anonymous for fear of people 'blacklisting' me for giving a quote to the Claremont Independent is a testament to how prevalent this sentiment is. Unfortunately, because college is supposed to be some of the most fulfilling years of my life socially, I don't want to risk being ostracized, and that results in less honest campus discourse," he added. …

Students who identified as black also were the most likely to feel it is "more important for colleges to prohibit certain speech or expression of viewpoints" at 63%, compared with 36% of whites, 55% of Hispanics, and 59% of Asians.

In light of these results, the task force recommended an option for a "half-credit course for the first year [students] that would emphasize the tools of intergroup dialogue (IGD) or sustained dialogue."
That percentage of Pomona students having a negative view of school climate/free speech is one and a half times greater than that of college students nationwide.
Read the full article and Gallup poll results.
MORE: Poll: Large numbers of college students hostile to free speech 
MORE: Poll: Most Democrats support curtailing free speech
IMAGE: Shutterstock.com
Like The College Fix on Facebook / Follow us on Twitter