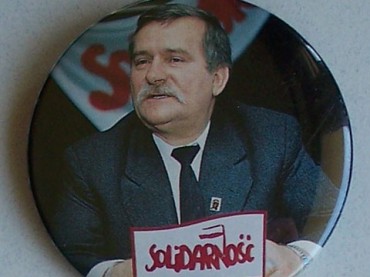 Following comments last year by Poland's former president about homosexual members of Parliament, some students at Northeastern Illinois University are pressuring the school to rename a building that bears his name.
The public university in Chicago renamed an academic building "Lech Walesa Hall" in 2009 to honor the former Polish leader for his role in the downfall of communism. The press release from the event touted the university's connection to the Polish community, including its student exchange programs with universities in Poland.
In an interview in March 2013, a reporter asked Walesa where gay members of Parliament should sit. He replied, "No minority should climb all over the majority. Homosexuals should even sit behind a wall, and not somewhere at the front."
Gay-rights groups on campus responded by protesting the naming of the hall. According to multiple articles on CNN's iReport citizen-journalism website by Mike Lackovich, a gay student at the school who organized a protest against the hall's name two weeks ago, the administration has disregarded requests for a name change.
Lackovich claims that keeping Walesa's name on the hall could potentially lead to an increase in suicides by gay students, and that honoring him is analogous to burning crosses or swastikas on campus. He chided the administration for continuing the "homophobia" and argued that President Sharon Hahs would be OK with a "Hitler Hall" on campus.
At the April 10 board of trustees meeting, justice studies professor Shelley Banister delivered a petition signed by 400 members of the university community asking for Walesa's name to be removed from the building. Such thoughts were echoed by multiple students and professors at the board meeting.
Not everyone is on board with the name change, however.
At the same meeting, Joanna Nowacka, a graduate student and president of the school's Polish Student Association, told the board her group felt shut out. She said one group was trying to "monopolize the issue" for its own gain, without letting other voices be heard.
Some administrators also objected to removing Walesa's name. Coordinator of International Partnerships Wojciech Wloch told Fox 32 News that Walesa's contributions to humanity throughout his life outweigh a few errant comments he made in his old age.
President Hahs laid out actions the university would take to make amends with those who felt a name change was necessary, in an April 25, 2013, press release.
For example, the university agreed to maintain records of the campus dialogue on the issue, commission a work of art to commemorate the dialogue, and speed up the process of building an LGBT resource center.
The university has tried to work on dialogue while still maintaining its position that the name should stay.
In an emailed statement to students and faculty in April, also sent to The College Fix in response to a query, Hahs said that while Walesa's comments did not fit into the school's vision of inclusion, they did not cancel or redefine his accomplishments as a Polish leader.
The email noted that of the more than 20 universities that had granted Walesa honorary degrees, none had retracted them after his comments.
Hahs rejected the University Advisory Council's recommendation to change the name, arguing in the email that such a change would "terminate the carefully worked-out response by our University community a year ago" in response to Walesa's comments.
College Fix contributor Matt Lamb is a student at Loyola University-Chicago.
Like The College Fix on Facebook / Follow us on Twitter
IMAGE: Mpls55408/Flickr