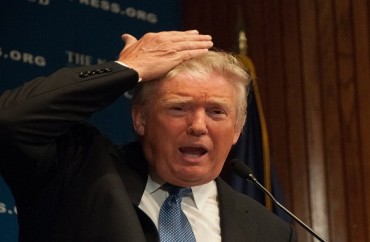 If you so desire, an anonymous LGBT high school couple will ship for you "an edible, flesh-colored vulva on a stick" — a "pussy pop," if you will — to President-Elect Donald Trump.
And the cost is only $3.99.
According to The Huffington Post, "Jules" and "Gabe" created the website Send Trump Pussy! which says the pair "will anonymously send all lollipop orders directly to Trump's headquarters in New York."
According to the site's FAQ, "50% of [the] proceeds will be donated to Planned Parenthood."
"We would really love for people to put their money where their mouths (and social media handles) are and actually work towards sending a tangible message to our unfortunate President-elect Trump while also supporting a very important cause," Jules and Gabe told the HuffPost.
The couple launched their campaign with one goal in mind: to let the incoming president of the United States know that there are people who are not happy with the result of this year's election.

"We're on a mission to show Trump and America that we're unsatisfied, and our desire for an inclusive un-misogynistic America is unwavering, by sending him pussy-shaped lollipops," their website reads.

The website criticizes Trump on women's issues ("He's a mysogynistic [sic] pig"), his stance on immigration ("He's building a fucking wall") and his apparent inability to represent all of America ("Trumps rhetoric is xenophobic, racist, and misogynistic. He's the furthest thing from inclusive, and therefore he doesn't speak for US!") as reasons you should support Send Trump Pussy and its vagina pop-making endeavors.
In an email to The College Fix, Gabe and Jules note that no company is involved in the lollipops' production; they say they "have a friend who 3-D printed a mold" of the 'pops.
"Currently, we've received about 5,500 orders, so it's definitely become a full-time holiday job with us and our friends," they write.
As for why they're making 'pops that look like vulva, the pair say it's "not only [to] show how strong these 'anatomical features' are, but also to take back the power.
"Pussies have always been referred to as weak, things that women should be embarrassed about, and things that men should have power over, but honestly, the opposite is true. They are one of the strongest anatomical features in humans [sic] bodies, and women should not only be proud of them, but we need to take control of them back."
By the way, if you prefer (and for an extra buck), Gabe and Jules will send The Donald a lollipop penis.
You may be wondering just what guarantee people have that their donations are going towards what the couple claims.
"You just have to trust us," they say. "We are really passionate about this cause, and we wouldn't be putting our names out there if we weren't."
Well, they're not totally putting their names out there; as the HuffPo points out, the pair only use their (alleged) first names. They wish to remain anonymous "because they have not told their families about their sexual identities."
In addition to their website, you can follow Gabe and Jules on Twitter @sendtrumppussy, and Instagram @sendtrumppussies
Like The College Fix on Facebook / Follow us on Twitter
IMAGES: Shutterstock, Send Trump Pussy!, YouTube