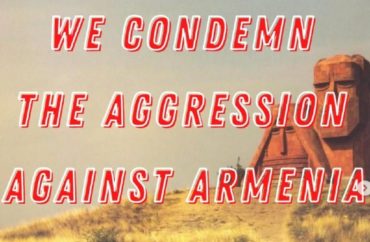 An international conflict between two former Soviet Bloc countries has spilled over to the George Washington University student government.
The Student Association Senate at the private D.C. university passed a resolution on Monday "urging the SA executive branch to apologize for sharing an Instagram post that supports one side of an ongoing foreign war," according to campus paper The GW Hatchet.
The Hatchet reported that the executive branch had shared an Instagram photo from the school's Armenian Student Association which urged support for the Armenians in their ongoing military conflict with the country of Azerbaijan. The executive branch deleted the photo hours later, according to the student paper.
While the Hatchet article does not include a copy of the photo, the Armenian student group posted a photo on October 4 that condemned Azerbaijan and urged donations to several fundraisers. It also asked people to contact their representatives.
"Our imperialist enemies want bloodshed. We fight for freedom, for democracy, and for our right of self-determination. We condemn the aggression against Armenia by Azerbaijan and Turkey. ARMENIA WANTS PEACE," the post read.
The resolution from the student senate passed 17-4.
"SA Sen. Kate Carpenter, U-at-Large and the sponsor of the resolution, said SA leaders wrongly inserted the organization into a geopolitical issue by sharing the post and asking for students to donate to Armenian war efforts," the Hatchet reported. Carpenter referenced a friend who had a brother deployed to the conflict in the Azerbaijani military.
It reported that "Brookins" had apologized for the post. The paper does not introduce who Brookins is, but it presumably refers to Howard Brookins, the student government president.
The conflict between the two countries has led to dozens of casualties and hundreds of wounded citizens, according to CBS News.
Dozens of people have reportedly been killed and hundreds more wounded since fighting erupted between Azerbaijan and Armenia just over a week ago. The two countries' military forces are clashing over the Azerbaijani breakaway territory of Nagorno-Karabakh, and with some major world powers backing opposing sides in the standoff — and the U.S. notably absent — there are concerns the conflict could escalate.

International observers and analysts warn that, unlike during previous clashes along the two countries' shared border, it may be hard to negotiate peace this time, not least because NATO member Turkey has backed Azerbaijan and the United States appears uninterested in playing the vital role of arbiter.

Officials on both sides claim to have inflicted serious losses on the other's. Both sides claim the other has killed civilians, including new reports Monday by officials in Azerbaijan that the city of Ganja, home to more than 330,000 people, was being shelled by Armenian forces.
Read a BBC primer on the conflict.
IMAGE: GW Armenian Students Association/Instagram
Like The College Fix on Facebook / Follow us on Twitter