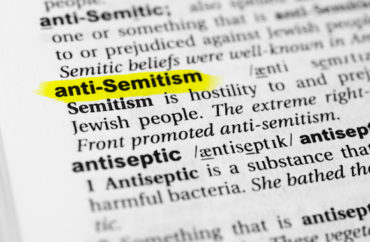 Meanwhile, others mark rise in antisemitism from the left
"Extreme right" conspiracy theories involving white supremacy are inciting antisemitic violence online, a George Washington University report asserts.
The report, published in October, presumably was completed before the Oct. 7 attack on Israel by Hamas terrorists and the subsequent uptick of antisemitic acts across the world.
In contrast to the GWU report, researchers at the University of Massachusetts Lowell say they are coming out with new research soon showing antisemitism also is a problem on the political left.
The report by the George Washington University Program on Extremism, the International Centre for the Study of Radicalisation, and King's College London centered around the 2018 Tree of Life synagogue attack in Pittsburgh where Robert Bowers murdered 11 Jewish people.
Bowers is "regularly commemorated and glorified within extreme-right communities online," the authors wrote. "'Screw your optics, I'm going in,' his last words on Gab, turned into a popular slogan used as a catchphrase to incite violence."
Researchers said the catchphrase has been "adopted in visuals calling for attacks" and has "inspired extreme-right activists who use it to promote their own activities."
Lorenzo Vidino, director of the Program on Extremism, told The GW Hatchet student newspaper that these included the 2022 supermarket shooting in Buffalo, New York and another shooting at an LGBTQ+ bar in Bratislava, Slovakia.
"We do see antisemitism as a phenomenon spanning virtually all extremist ideologies," Vidino told the student newspaper. "It is not entirely a new phenomenon, as cross-ideological pollination of antisemitism is a centuries-old cancer."
Lead author Julien Bellaiche, a doctoral candidate at King's College London, told The GW Hatchet that people on the extreme right often believe in demographic replacement conspiracy theories. These theories claim there is a plot to replace white people with minority groups, such as Jews.
"The idea of the white race or Western cultures being in danger because of immigration, because of race mixing — it became increasingly central in these extreme right online spheres," Bellaiche said.
The authors said they believe more research is necessary to better understand demographic conspiracy theories and their "social role in a variety of extreme-right-related contexts."
This week, The Fix asked the authors if they would add or change anything about the report, given recent events. The Fix also asked if they believe there is a link between antisemitism and extreme left thought, and if they have plans to do follow-up research. None responded to email requests for comment.
Other researchers say antisemitism is a problem on the political left as well – and has been for years. Late last month, University of Massachusetts Lowell researchers revealed information about a soon-to-be-published study about antisemitic incidents in the U.S. between 1990 and 2021.
"[We] found a startling new phenomenon: The ideology underlying antisemitism in the U.S. now encompasses both sides of the political spectrum," Criminology and Justice Studies Professor Arie Perliger wrote at The Conversation.
Perliger said it used to be that antisemitism was promoted "by far-right organizations and movements, such as the Ku Klux Klan, neo-Nazi groups and skinheads."
Now, "progressive and left-leaning movements that are critical of Israel's policies – especially with regard to the Palestinian population in the territories occupied by Israel in 1967 – have become linked to antisemitic practices, too," he said.
Perliger said their research found many of the recent antisemitic hate crimes have taken place in "politically progressive areas of the country."
Since the Oct. 7 attack, many politically left Jews and other Americans have expressed alarm at leftist political and higher education leaders' responses to antisemitism.
An Oct. 20 headline from the New York Times read, "On Israel, Progressive Jews Feel Abandoned by Their Left-Wing Allies." NBC News reported a similar story, "The left faces a reckoning as Israel divides Democrats," on Oct. 13.
MORE: Even red state colleges are folding to antisemitism. I experienced it firsthand
IMAGE: Lobroart/Shutterstock
Like The College Fix on Facebook / Follow us on Twitter