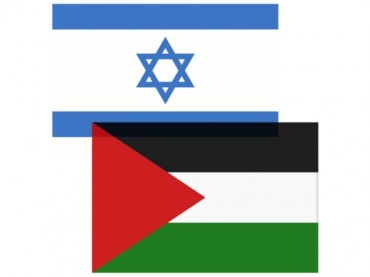 UPDATED
Maybe George Washington University's promised microaggression reporting system is already in the works.
Following "many complaints" to the campus police department, an officer showed up to student Ramie Abounaja's room Oct. 26, told him to remove the Palestinian flag he had hung outside his window, then filed a report about it, according to a letter Abounaja wrote the school last month:
I felt victimized and criminalized in front of my roommates. … I was told I had to remove the flag because it broke university policy – but I have checked the Housing Agreement, the University Code of Conduct, and the Residential Community Conduct Guidelines and I couldn't find language with respect to hanging flags and banners on bedroom windows.
When a student bureaucrat told him to just put the flag inside his window, Abounaja did so – but the following week he received a warning letter from the Office of Student Rights & Responsibilities saying he was violating two campus regulations:
As a member of the larger residential community we hope that you will be respectful of your peers and be aware of your behavior. The act of an individual has a profound impact on the community.
Abounaja continued in his letter:
The events of the last week have left me feeling humiliated, upset and like I can't even feel safe in my own dorm room. … I feel like my free speech has been violated because of my national origin.
RELATED: GWU gets pushback for punishing student who posted swastika-like symbol
He threatened legal action if GW didn't retract the warning letter, give him a public apology and "clearly state in writing" its policy on flags and banners, because his peers are hanging them outside their residences with no apparent repercussions.
Sure enough, Palestine Legal highlighted GW's treatment of Abounaja and wrote the school Monday, reminding it that its federal funding hinges on not discriminating against students based on their "national origin," among other categories.
According to Palestine Legal, GW is stonewalling Abounaja on his request for a meeting to learn how he's violated school policy:
Since then, flags continue to be hung outside residential hall windows, including, most recently, what appears to be an Argentinian flag outside a window on Townhouse Row, approximately 100 feet from Shenkman Hall [where Abounaja lives]. …

A university may lose its federal funding if it acts with deliberate indifference to known acts of harassment or intimidation, or treats a student differently because of his/her national origin, resulting in a denial of a student's educational activities. Since this incident, Mr. Abounaja … has found it to difficult concentrate on his studies and exams.
RELATED: GWU drops its ignorant attack on student who posted Hindu symbol
GW can't treat some flags differently than others, the group wrote:
Different messages cannot be treated in a disparate manner based on how much controversy they may provoke. Other students' flags and banners are routinely hung on GW residential buildings. To our knowledge, this is the first time GW has forced a student to remove a flag, issued a police report, a warning letter and threatened future sanctions.
Without mentioning Abounaja's claims, GW wrote in a "statement regarding flags on campus" dated Monday that it has "not banned any flags from its campus" but its residential community conduct guidelines ban the "hanging of any object outside of a residence hall window."
GW did not immediately respond to a Fix inquiry about whether it had responded to Palestine Legal's letter and Abounaja's claims of selective enforcement of the policy.
Palestine Legal said Thursday that GW had removed the warning letter from Abounaja's record as requested (GW gave a cryptic response too), but has not answered his other demands, including the apology and promise it "will apply its policies equally." The legal group pointed to a comment on GW's own Facebook page showing an American flag hanging from a GW dorm.
Students are planning a demonstration against GW's selective enforcement of its window-hanging rules Friday morning.
Tomorrow at GWU. #FreeSpeech #Palestine pic.twitter.com/ZqF5RMQlKl

— Peter Bonilla (@pebonilla) December 10, 2015
Read Abounaja's letter, the warning letter, Palestine Legal's letter and GW's statement.
SECOND UPDATE: GW has removed its warning letter from Abounaja's record but otherwise not addressed his demands. Students are also planning a demonstration against GW Dec. 11. The post has been amended accordingly.
UPDATE: GW posted a statement pointing to its written policy against the "hanging of any object outside of a residence hall window," but did not mention Abounaja's specific claims. The article has been amended.
h/t Peter Bonilla
RELATED: Microaggression-reporting system is among 'great ideas' suggested by students, GW president says
Like The College Fix on Facebook / Follow us on Twitter
Like The College Fix on Facebook / Follow us on Twitter