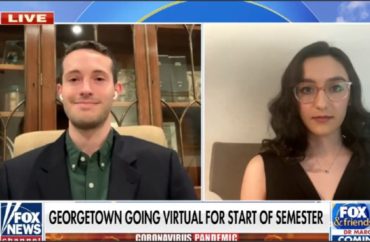 Administrators have provided 'no discernible metric' for return to normal, students say
Georgetown University law students have asked administrators to either reduce tuition or return to in-person learning after a recent decision to go remote for the entire campus.
The December 30 letter (below) from the Conservative and Libertarian Student Association questions President John DeGioia's announcement the day prior to move to virtual classes until January 30.
Georgetown's move back to virtual classes defies both science and common sense. As such, CALSA is calling on Pres. DeGioia and Law Dean Treanor to re-implement in-person learning or provide an immediate tuition refund to compensate students for another compromised semester. pic.twitter.com/LCMigItDbh

— CALSA-Georgetown (@CALSAGeorgetown) December 30, 2021
"We ask President DeGioia and the Law Center's Dean [William] Treanor to re-implement in-person learning for the spring semester," the letter says. "If the school moves forward with its plan for mandatory virtual learning, we call for an appropriate reduction in tuition to account for the compromised semester."
"This decision does not follow the current recommendations of public health officials and defies common-sense principles," the law students wrote in their letter. They said the new omicron variant of COVID "does not warrant a move to virtual instruction."
The Catholic university also did not provide a "discernible metric" for when in-person classes could resume, according to the student. However, the university said "[i]n-person classes across the University are planned to resume on Monday, January 31."
The letter said that every student has been fully vaccinated and boosted, unless they obtained one of the school's "illusive exemptions." Two of the student leaders, Luke Bunting and Elana Quint, discussed the situation on Fox News this weekend.
The students said the "draconian approach" has negatively impacted students, who were planning on returning to a normal, in-person semester starting in January.
Students rented apartments and moved back to D.C., while paying thousands of dollars for an in-person semester, only to find out there would not be in-person learning immediately, the libertarian and conservative students said.
MORE: Round-up of universities' 2022 COVID restrictions
IMAGE: Fox and Friends/Fox News
Like The College Fix on Facebook / Follow us on Twitter