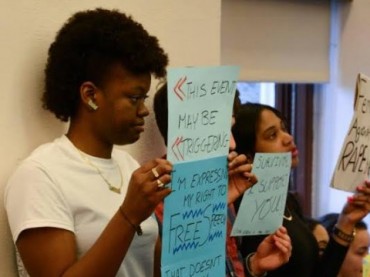 The revolution will be televised, unless the revolutionaries realize they look like idiots.
Radical feminist protesters apparently didn't like it when the Clare Boothe Luce Policy Institute released a video from classical-liberal feminist Christina Hoff Sommers' talk at Georgetown University last week, according to Laurel Conrad, lecture director for the institute, at Legal Insurrection.
The video captured the protesters' antics, which included signs such as "This event may be triggering" and "Trigger Warning – antifeminist."
Georgetown demanded edits to the video to remove the protesters because they didn't consent to be videotaped. At a public event. Where the camera was obvious:
In an email, the assistant director for Georgetown's Center for Student Engagement told the lecture student organizers that if CBLPI is "unwilling or unresponsive to the request, Georgetown will need to step in."
No word on how Georgetown might "step in." Conrad writes:
But it stretches credulity that Georgetown and its students would not understand that the lecture was a public event. The video camera was in plain view, and audience members themselves appear to be taking video and photos. It could not shock any student that he or she was on camera. In addition, the mission of the protestors at the event was clearly to gain attention. Perhaps we are receiving this request because the students were too successful at gaining attention …
Georgetown's demand is either ignorant or sly, because uploaded videos can't be "edited" – they must be removed and then reposted, Conrad says. And the institute isn't going to cave to such "bullying":
I wonder if Georgetown ever heard of the Streisand Effect?
h/t Robby Soave
Like The College Fix on Facebook / Follow us on Twitter
IMAGE: Georgetown University Republicans