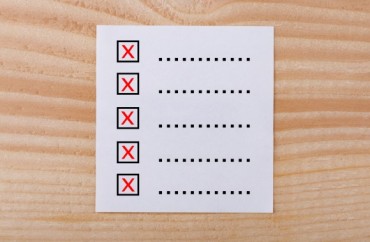 In an effort to promote diversity and inclusion at campus events, Georgia Tech's student government has created a 2-page "Inclusivity Checklist" that offers some 45 different guidelines for campus organizations to consider when hosting events at the public university.
Everything from toxic masculinity to slut shaming to not using chairs that are too small for overweight people to ensuring Muslims have a place to pray is on the "inclusivity" checklist.
Created by the student government's Cultural and Diversity Affairs Committee, the document aims it focus at generating inclusion when it comes to the food, content and event planning involved in campus events.
The two-page checklist also offers suggestions on issues ranging from the utensils and seating provided at the event to the pronouns usage, such as providing preferred pronouns on name tags.
Other advice includes how to use trigger warnings for sensitive content. More specifically, the checklist urges event organizers to "avoid hypermasculinity," to consider their "privilege" when determining content for events, and to be ready to fight back against offensive ideas that might be discussed at the event.
"Incorporate discussions and workshops about LGBTQIA topics into your meetings and programs," the checklist states. "Take into account religious considerations. [For example, provide] space for Muslim students to pray if event is most of the day."
Also advised? "Check if sponsors, vendors, etc. have positive stance on LGBTQIA inclusion" and "be prepared to challenge homophobic/ transphobic ideas and opinions during the event."
A brief description included on the checklist asserts a number of students at Georgia Tech currently "do not feel welcome attending certain events which do not accommodate their needs" and that the document aims to help fix that.
"Considering the items on this list will help you to design events with all students in mind, and hopefully help to create a more united Georgia Tech," the checklist states.
It's unclear exactly when the checklist was created, but an article published Feb. 27 on Georgia Tech's website describes it as being "recently created."
Two students listed as contacts on the document declined to comment to The College Fix for this story. The Georgia Tech administration also declined The College Fix's request for comment.
The majority of guidelines included on the list pertain to the content of events and event logistics. For instance, the checklist states that campus organizations should "avoid generalizations and sexist language."
"Avoid hyper-masculinity: promoting or assuming a particular standard for 'manliness,'" the list adds.
Additionally, event organizers are told to avoid jokes that may offend minorities and women and to "take your own privilege into account" when it comes to choosing the content for an event. To do this, the checklist suggests inviting a diverse group of people to the event, teaming up with cultural organizations and discussing LGBT issues at events.
"Be prepared to challenge homophobic/ transphobic ideas and opinions during the event," the checklist states.
The "inclusivity checklist" also recommends that event planners carefully pick chairs that will provide inclusion for all. "Are you taking into consideration body size and individual preferences in terms of seating options," the document asks.
In the article published on Georgia Tech's website, Barry Johnson-Smith, one of the students listed as a contact on the checklist, said the items on the document are things that students typically don't learn about.
"We wanted to make students more intentional in ensuring that everyone feels welcome," Johnson-Smith said. "They're simple guidelines, but we are not really taught about these things."
MORE: University guide takes on 'white fragility, white spaces, seeing white'
IMAGE: Shutterstock
Like The College Fix on Facebook / Follow us on Twitter