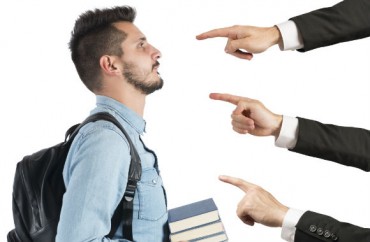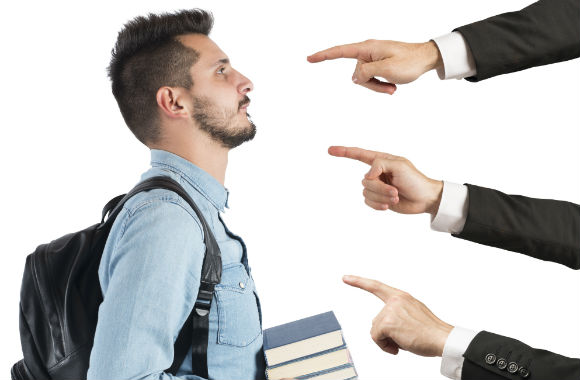 You might have already seen Robby Soave of Reason or Ashe Schow of the Washington Examiner write about a bold new lawsuit by a student athlete, Grant Neal, accused of rape.
Not by his sexual partner, mind you – she has repeatedly said he didn't rape her. But by their school, Colorado State University-Pueblo (CSUP), with no credible evidence whatsoever.
The basics: He's a student, she's athletic staff; they became sexually involved; one of her fellow staff noticed a hickey and reported it to their boss, presuming it was nonconsensual; CSUP ran a kangaroo-court investigation that ignored both sex partners' repeated claims that their sex was always consensual; the school quasi-expelled Neal, preventing him from enrolling elsewhere.
It almost goes without saying that Neal is black, as have been practically all high-profile accused student athletes in recent memory. (Curious omission from Black Lives Matter.)
Suing the Department of Education
As Soave memorably put it, "this case appears to represent one of the most paternalistic, puritanically anti-sex witch hunts ever reported on a college campus."
It echoes repeated decisions by researchers to retroactively decide that female students were raped when their own stated feelings about their sexual experiences are far more ambiguous.
RELATED: University of Michigan students don't consider their 'nonconsensual' sex to be rape, survey finds
What makes this case doubly interesting is that Neal has named as defendants the Department of Education's Office for Civil Rights and its chief, Catherine Lhamon. They have explicitly threatened to yank federal funding from colleges that don't run kangaroo-court proceedings.
If OCR's self-acknowledged nonbinding guidance is actually judged in court to be nonbinding, it could start the ball rolling toward the nullification of campus rape findings based on proceedings that were designed in response to OCR threats.
What concerns me, however, is one of Neal's claims that has never done particularly well in front of judges: that these proceedings are inherently anti-male and thus violate Title IX.
A nearly impossible hurdle
A good report by Max Kutner at Newsweek digs deeper into these legal matters:
Most of these so-called reverse-Title IX cases have been unsuccessful: In March, a judge dismissed a high-profile case against Columbia University by Paul Nungesser, the student who was the subject of classmate Emma Sulkowicz's "mattress" art project and protest. Nungesser has until April 25 to file an updated complaint.
It's worth noting the judge's rationale for dismissing Nungesser's Title IX claims – that the statute has nothing to do with sexual behavior, but discrimination on account of sex, an incredibly high bar to clear if you are male.
RELATED: Title IX has nothing to do with sexual behavior, judge rules in 'Mattress Girl' case
That wasn't even the first Title IX suit by an accused male Columbia student to be dismissed. As the judge wrote:
[I]n order to establish a claim of discrimination under Title IX, a plaintiff must ultimately show that the defendant discriminated against him or her because of sex; that the discrimination was intentional; and that the discrimination was a 'substantial' or 'motivating factor' for the defendant's actions.
The Foundation for Individual Rights in Education (FIRE) tabulated six rulings in the first eight months of 2015 that knocked down Title IX claims by accused males.
As Brandeis University practically bragged when it punished a gay male student for alleged sexual assault, his accuser was also male, and it could credibly claim that it simply favors accusers, not women. (That student's lawsuit just got approved to move forward on due-process grounds.)
RELATED: Federal judge validates due-process lawsuit against Brandeis by student accused of rape
One of the very few known Title IX cases by an accused male to clear that initial hurdle was by a Washington and Lee University student, who noted the school's investigator had publicly written that all women could claim rape if they had "internal reservations" during sex. (In that case, his other claims – breach of contract and due process – were rejected.)
The drunk-initiating-female test
A better vehicle for alleging sex discrimination against male students is when a school treats intoxication differently between a female accuser and a male accused student.
This is alleged in an Occidental College case where a drunk woman is accused of initiating sex with a drunk man, yet the man was punished for their encounter, whose facts are not disputed because of voluminous text-message evidence and witness statements.
RELATED: Another accused student tries Title IX as a club to beat the hell out of his college
When I asked Stop Abusive and Violent Environments, a group that defends due process in campus rape investigations, about the track record for Title IX claims by accused males, President E. Everett Bartlett told me they had "recently begun to analyze these cases at this level of detail" but don't have a "fixed timeline" for reporting their findings.
I've asked FIRE and Andrew Miltenberg, attorney for Grant Neal and dozens of other accused students, about the prospects for anti-male Title IX claims going forward. At this point, to me at least, it seems like a Hail Mary by Miltenberg.
If he can make Title IX claims stick in a case naming the Office for Civil Rights, perhaps other judges will start to question the fundamental premise of OCR's guidance – not just its predictable effects in leading schools to abandon due process for accused students, or its failure to go through the appropriate regulatory review process.
RELATED: Judge Rejects Occidental College Request To Seal Sexual-Assault Records
Like The College Fix on Facebook / Follow us on Twitter
IMAGE: Shutterstock