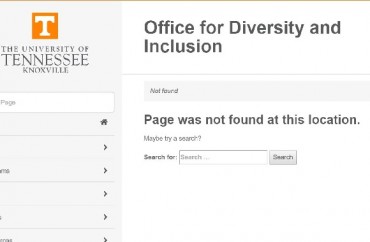 Some conservative students verbally harassed for denouncing pronoun suggestions
The University of Tennessee has deleted from its website a gender-neutral pronoun list that called on the campus community to use terms such as "ze, xe, xem, xyr, zirs and hirs," prompting nationwide controversy, ridicule, and concern.
The decision was made by campus leaders, with UT system President Joe DiPietro saying in a letter to the Board of Trustees that he was "deeply concerned about the attention this matter continues to receive and the harm it has had on the reputation of the University of Tennessee," The Tennessean reports.
"DiPietro added that, moving forward, UT-Knoxville Chancellor Jimmy Cheek will not allow any of the school's vice chancellors to 'publish any campus-wide practice or policy' without Cheek's approval," The Tennessean added. "The shift comes after officials at UT spent a week defending the post, which encouraged professors and students to use gender-neutral pronouns. Officials released several statements saying the post, written by the director of UT's Pride Center, was intended as a campus resource, not mandatory policy."
DiPietro's decision also comes as state lawmakers prepare to hold oversight hearings on UT. Legislators also sent the board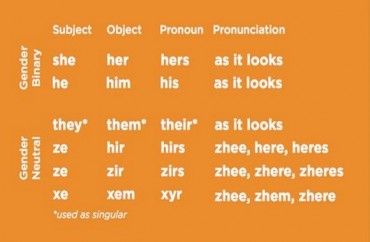 of trustees a letter demanding that they prioritize educating students over indoctrinating them.
Among those who had condemned the gender-neutral pronoun list were students themselves. A conservative club on campus, Young Americans for Freedom, asked students around campus what they'd heard about the recommended pronouns, and found many were baffled by them.
"We had students look up these words in the dictionary, and they were not there," University of Tennessee Knoxville's YAF chairman Michael Hensley told The College Fix. "That's one of our questions to the office of diversity: how does this make the campus so much more inclusive, it's a certain set of those in academia that have created these words out of nothing?"
Hensley has also been highly vocal in his refusal to use such "words," condemning the suggestions in YAF blog posts, for example. His group's outspoken criticisms came at a cost.
Thomas Carpenter, president of the school's Central Program Council, bashed the chapter online for its opposition to the pronouns, calling them "insensitive bigots" on Twitter.
"If it was any other student, we would not have took issue with it, but this individual, the president of this council, oversees the school's $500,000 programming budget," Hensley told The Fix. "It was very disturbing to see this individual speak out against us."
UTK's YAF chapter has received money to host speakers on campus in the past, and Hensley expressed concern over a conflict of interest.
Carpenter did not respond to multiple requests from The College Fix seeking comment.
"That's something we're certainly thinking about," Hensley said. "It's bothered a lot of people because they know that the Central Programs Council, they claim to offer a balanced and diverse array of programming, but I don't know how they could offer that if their president publicly condemns a conservative organization."
Meanwhile, YAF members launched a petition to be sent to the Office of Diversity and Inclusion highlighting the fact that they have been marginalized and attacked for their beliefs.
"'Bigot, insensitive freak, and intolerant' are just some of the words that have been used to describe those of us who have refused to join the supposed 'academic elite' to address transgender students as ze, hir, hirs, zhee, etc.," the petition states.
Hensley said: "Those that have come out condemn us, they're trying to marginalize us and act like we're almost the minority, but what we're trying to show is, hey, there actually are quite a few students that support this, that are standing with us. We can respect those that identify as transgender, but we can do that without the suggested pronouns."
Like The College Fix on Facebook / Follow us on Twitter
IMAGES: screenshots