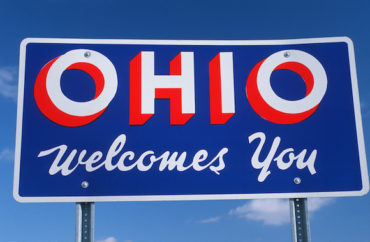 Governor's 'early mitigation' efforts began *after* alleged peak
As one commentator has noted: Coronavirus lockdowns are evidently so successful, they can prevent peak infections that were estimated to occur before the lockdown went into place.
A state-level coronavirus infection model drawn from data at the Ohio State University projected that peak infections in that state would occur on Mar. 22. That model guessed that an "unmitigated" approach to outbreak management in Ohio would result in a gargantuan peak of around 62,000 daily new cases per day there, after which the infection rate would begin to fall.
Those numbers have failed to materialize. The state has tested over 50,000 residents and has confirmed just over 5,100 total cases. On his Twitter account, Ohio Gov. Mike DeWine touted the state's late-March lockdown and "social distancing" efforts as having had a measurable effect on the infection rate in his state, not merely flattening the curve but even flattening the flattened curve itself. "We are blessed to be in the early mitigation category in [Ohio]. But we need to stay there. There is no way out of this without what we're doing together," he wrote. 
We are blessed to be in the early mitigation category in #Ohio. But we need to stay there. There is no way out of this without what we're doing together. What we're doing is going to affect each other. Please continue to #StayHomeOhio. pic.twitter.com/FfDvGiVLXQ

— Governor Mike DeWine (@GovMikeDeWine) April 8, 2020
Yet though the governor touted "early mitigation" as the determining factor in the lower infection rate, the data suggest it's not so simple.
The Ohio State University's model projected a peak infection day of Mar. 22. Yet DeWine did not issue a statewide lockdown until that very day, with the lockdown actually going into effect the next day.
3/ Only Ohio didn't *actually* issue a lockdown order until Monday, March 23. Yes, lockdowns are such magic that they can PREVENT (theoretical) peaks that occurred before they were issued… pic.twitter.com/H9JfRpCZ0q

— Alex Berenson (@AlexBerenson) April 9, 2020
Popular medical consensus indicates that any mitigation efforts generally take some time to show up in the infection and hospitalization statistics; it's broadly considered to be roughly a two week lag between measures and results.
DeWine did take several mitigatory efforts prior to the Mar. 22 lockdown, yet even those were well within the two-week window. On Mar. 15 he ordered all bars and restaurants statewide to be closed; three days later he announced another wave of business closures throughout the state.
Those orders apparently were not immediately followed statewide, so much so that DeWine had to issue a stern warning to "non-compliant" businesses on Mar. 20. Noncompliance has apparently been so widespread in the state that as late as this week the Ohio attorney general had to issue cease-and-desist letters for businesses still in operation that the government had deemed "non-essential."
As early as Mar. 10, the governor was "discourag[ing] large gatherings" in the state, though he did not take any enforcements until days later.
Per the Ohio Department of Health, there were actually just 145 new cases in that state on Mar. 22, a 99.7 percent decrease from the Ohio State University's unmitigated projections.
MORE: University's revised COVID model still wildly overestimates hospital rate
IMAGE: Riki Gunawan / Shutterstock.com
Like The College Fix on Facebook / Follow us on Twitter