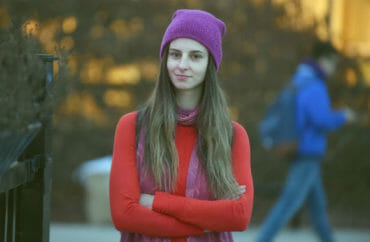 School is silent on speech code used to threaten TA
"I wonder if my mere presence is simply too triggering now."
That's how graduate student Lindsay Shepherd, who caused an uproar at Canada's Wilfrid Laurier University by showing undergraduates a gender-neutral pronoun debate, makes sense of the unexplained cancellation of her department-wide class this week.
As she has become a campus celebrity among defenders of free speech, Shepherd has taken to Twitter to joust with critics who call her a white supremacist and threat to students who do not identify with their birth sex.
Wilfrid Laurier's critics are calling on the school to reckon with its speech codes – under which Shepherd faced possible discipline – as the university launches a task force on freedom of expression.
'The leftist authoritarianism has gone too far,' says self-identified leftist
Shepherd secretly recorded professors and staff reprimanding her for showing three minutes of TVOntario program that featured University of Toronto Psychology Prof. Jordan Peterson, who is controversial in Canada for refusing to use gender-neutral pronouns.
Buoyed by international outrage against WLU for chilling debate in the classroom and the school's lukewarm apology to Shepherd, students held a free speech rally to support Shepherd.
Journalism Prof. David Haskell, a former TV news reporter, opened the rally by expressing his disgust at the university's treatment of Shepherd:
We tell people that you send your kids to Wilfrid Laurier and we're going to teach them to think critically. The only way someone learns to think critically is if you expose them to both sides of an argument and let them as independent adults figure out for themselves what they think the best facts are.
Haskell also personally went after Shepherd's supervising professor, Nathan Rambukkana, for telling her on the recording that gender-neutral pronouns aren't up for debate.
He encouraged students at the rally to sign a petition demanding the university adopt a formal statement protecting freedom of expression and encourage their professors to sign it as well.
According to the rally organizers, they are seeking a statement "in the spirit of" the University of Chicago's pioneering 2015 statement.
I'm happy that my work organizing the Demonstration for Free Speech at Laurier with a group of dedicated students is finally paying off! We're imploring Laurier to adopt a comprehensive policy in accordance with the Chicago Principles of Free Expression pic.twitter.com/02t9Hg3ZbV

— Alexander Eyre (@AlexanderWEyre) November 24, 2017
Shepherd told the rally she was amazed that showing a TV clip to undergraduates could violate WLU's gender violence policy and Canada's so-called misgendering law C-16, the subject of Prof. Peterson's year-plus activism.
"It is clear to me that the culture of coddling and comforting students has gone too far," the 22-year-old said to applause from the modest crowd.
The self-described leftist, also a longtime vegetarian and climate-change believer, denounced the LGBTQ center on campus among others for calling her "transphobic." Drawing even bigger cheers, Shepherd said that judgment proves "the leftist authoritarianism has gone too far."
Haskell, who is on sabbatical, initially responded to a College Fix query but did not respond to followup queries. Shepherd couldn't be reached via Twitter this week or immediately at her email address, which The Fix only located Thursday night.
MORE: WLU regrets telling TA she broke law by showing a debate
It all makes sense now. This is why affiliates of the WLU Rainbow Centre are relentlessly insisting that I have caused them harm and that they are actually at the centre of a free speech issue. They want…compensation. $$$ pic.twitter.com/p1i1vs5YOV

— Lindsay Shepherd (@NewWorldHominin) November 27, 2017
Dear WLU Rainbow Centre,

As someone who is part of the LGBT community, we are not in need of special treatment.

Discussion is not violence, and I find it laughable that you believe free speech should be censored in order to cater to hurt feelings.https://t.co/HwFtm1SaCU

— Abigail Conway (@AbigailConway14) November 22, 2017
University has become 'unsafe' for gender minorities 
Professors are split on the demands for the university to formally protect freedom of expression.
Nearly 1,200 people have signed a petition started by WLU Prof. William McNally asking the administration to formally enshrine something like the Chicago Statement, adapted to the university's "particular context."
Though McNally asked only WLU members to sign, few who explained their signatures identified as current or past members of the university.
According to the Toronto Sun, "a much larger group of professors, mostly from the social sciences," pushed back against that effort with their own call to action.
It's hard to tell based on the petition started by Sociology Prof. Greg Bird, with about 400 signatures, which one has more faculty signatories.
It says that due to the recent events, the university has become "unsafe" for "trans, non-binary, and gender diverse students and faculty."
Students and faculty have been hit with "threats of violence, harassment, intimidation" since the secret recording was published, it says without specifying how.
The petition demands the administration formally say "these actions will not be tolerated on our campus," though it provides no evidence that such actions have taken place physically on campus.
It also wants all expressions of "hate" based on gender identity and expression to be "carefully monitored" and reported to authorities, and more vaguely, for the administration to "establish measures" to protect community members "who are being subjected to [unspecified] discrimination, harassment, and threats on their lives."
The administration did not respond to Fix inquiries to corroborate the professors' claims or how it will protect Shepherd from harassment and discrimination on campus.
In a Sunday tweet by signatory Neil Balan, a global studies professor, the petition has 60 faculty signatures, including one of Haskell's journalism colleagues. Shepherd thanked the signatories for giving students "an updated list of professors to avoid."
Updated WLU Faculty Open Letter. pic.twitter.com/0eFEwyItIq

— n. balan (@neilbalan) November 27, 2017
Excellent. An updated list of professors to avoid at Wilfrid Laurier University (if you aren't already avoiding the whole school). Take note, #Laurier students who enjoy thinking for themselves and debating societal topics openly. https://t.co/iJOa2jUh8F

— Lindsay Shepherd (@NewWorldHominin) November 27, 2017
Saying she 'advocates for a white ethnonational state' is defamation
Having joined Twitter two weeks ago, after she became a trending hashtag, Shepherd has regularly engaged with critics and shared her thoughts on the repercussions from her secret recording.
On Monday she mocked Bird, the petition creator, for making "vast claims" about faculty and staff being "scared to come to work," without providing evidence.
The next morning, she tweeted she had just learned her weekly "colloquium" class – in which "students and all profs in the department get together over a lecture" – had been "mysteriously cancelled." She mused her that very presence was "simply too triggering now.'
The WLU administration did not respond to multiple queries by the Fix regarding the cancellation of Shepherd's class.
"Threats of violence, harassment and intimidation"
"Faculty and staff are scared to come to work right now"
"The campus is not safe"

Why do they make these vast claims yet provide no specific evidence to back them up? https://t.co/or4E91kqL6

— Lindsay Shepherd (@NewWorldHominin) November 28, 2017
Just found out my "colloquium" class this week has mysteriously been cancelled (a class where all students and all profs in the department get together over a lecture). I wonder if my mere presence is simply too triggering now. This place is so weird. I need to get out of here!!

— Lindsay Shepherd (@NewWorldHominin) November 28, 2017
Shepherd later cited an anonymous source who told her that professors canceled classes the day of the free speech rally: "We feared for our own safety, & a lot of faculty members & grad students from the Communication program feel unsafe to come to campus."
The presidents of the Students' Union and Graduate Students' Associations released a statement Thursday saying that academic freedom must be tempered with "proper contexualization" and that teaching controversial material "should not willfully incite hatred or violence."
They said the "dominant narrative" of Shepherd's controversy has "too often discounted the lived experiences" of students who do not identify with their birth sex, and thus "questioned their very existence."
Posted by a WLU Communication grad student. Why is it that so many ppl associated with WLU are so spectacularly good at missing the point and misinterpreting law? Also wrong: "formal complaint." It was informal. The job description you have attributed to me is also inaccurate pic.twitter.com/b10KsYzxBe

— Lindsay Shepherd (@NewWorldHominin) November 23, 2017
Shepherd responded that it was "very disappointing" to see student leaders "repeat the now tired rhetoric" of harm and violence, rather than embrace free expression and diverse opinions.
She's also called a student at nearby York University, Aadita Chaudhury, her "main Twitter troll" who "may" have defamed Shepherd by calling her a "white supremacist who associates with Nazis & advocates for a white ethnonational state."
The "most dangerous person" in her secretly recorded conversation is not her supervising professor but the Gender Violence Prevention staffer from the Diversity and Equity Office, according to Shepherd, because that office's "bad policymaking" is "censoring academic discussion."
Aadita Chaudhury may be liable for slander. She says I'm a white alt-right ethnonationalist/white supremacist who associates with Nazis & advocates for a white ethnonational state. Relentlessly mocks my race, ie. "white tears", "crying white girl."

Racial harassment = not ok.

— Lindsay Shepherd (@NewWorldHominin) November 29, 2017
Although Rambukkana has been at the centre of the #Laurier issue, I regard inquisitor #3, Adria Joel (Manager, Gendered Violence Prevention @ WLU Diversity & Equity Office) as the most dangerous person here. Her office & their bad policymaking r censoring academic discussion.

— Lindsay Shepherd (@NewWorldHominin) November 26, 2017
The problem is university policy bans ideas, full stop
The administration has walked a tightrope since Shepherd published the recording, in which Rambukkana said showing the debate video violated the misgendering law.
President Deborah MacLatchy did not apologize for Shepherd being investigated, but rather for the meeting "occurr[ing] in the way that it did." She seemed to show more concern for Shepherd's critics, who "have been targeted with extreme vitriol."
Even in his apology to Shepherd, Rambukkana also instructed the graduate student in how to "properly contextualize" controversial material in the classroom, suggesting her teaching was suspect.
Ripping up newspapers that our student body works hard to publish #notgolden We are all university students here #useyourvoice pic.twitter.com/9zaOtIc5rH

— Spotted At Laurier (@SpottedLaurier) November 23, 2017
The cover story is about @NewWorldHominin (Lindsay Shepherd). Here is the story online. Now read it and retweet the hell of it. https://t.co/jhPjqhPMbK

— Larry Updike (@LarryUpdike) November 24, 2017
The university released a less qualified statement after the free speech rally, saying it was "pleased" that participants "made their points in peaceful ways."
But it made clear that it will plow forward with a task force to examine academic freedom "in a safe learning environment" – a body that Shepherd has mocked as a waste of money intended to take the heat off the administration.
First floated by President MacLatchy two weeks ago and explained in more detail last week, the task force will seek "all points of view at Laurier" and consult "relevant scholarship" before submitting a report to the public and university leaders. Rambukkana said he "look[s] forward to participating" in the task force, though it's not clear if he would be a member of the task force or simply a commenter.
Separately, the university has retained a "fact-finding" expert to investigate Shepherd's Nov. 1 Communications Studies class "and subsequent disciplinary meeting."
The task force is beside the point, according to Andrew Robinson, who teaches "human rights and human diversity" at WLU.
In a Tuesday op-ed for The Toronto Star, Robinson said the "gendered and sexual violence policy" under which Shepherd was investigated was the real problem.
Ostensibly devised in response to an Ontario law on sexual violence, the policy adopted by WLU's board goes beyond harassment to prohibiting actions "that reinforce gender inequalities … on any communications platform."
This is a ban on ideas, and if Shepherd had consulted it before her disciplinary meeting, "she'd have realized there was no point arguing about her intentions, or whether she targeted anyone," Robinson wrote.
The same "emotional harm" standard could be applied to any WLU student, even when they aren't on campus, subjecting them to discipline as severe as expulsion.
It's an invitation for students to report each other for violating the policy if they ever violate the "orthodoxy" of inclusion, according to Robinson:
If Laurier really wants to make a statement about its commitment to freedom of expression it will remove its ideological definition of gendered violence from the [policy], now.
MORE: Trans activists attack rally defending professor who won't say 'ze'
IMAGE: NeoUnrealist/YouTube
Like The College Fix on Facebook / Follow us on Twitter