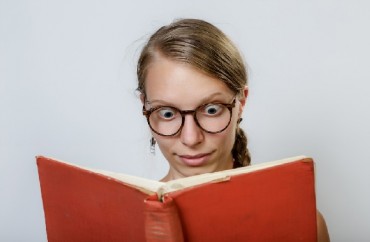 Duke University not the only campus where 'Fun Home' is widely read
Several members of Duke University's freshman class made national headlines recently after they refused their summer reading assignment, the graphic novel Fun Home, because of its themes and sexual images – but this is not the first time the book has been assigned, or prompted backlash.
The New York Times bestseller, written in comic book form, depicts author Alison Bechdel's life growing up, discovering she is a lesbian, and learning her obsessive-compulsive father, who commits suicide, was gay.
The 2006 memoir includes an image of "Alison" with her head between another woman's legs performing oral sex, one of a handful of images of sexual acts illustrated in the book.
The autobiographical tale also features themes such as pedophilia and depression, and has been assigned in recent years at at least 17 universities and two high schools; sometimes as part of a class, other times as summer reading.
"I feel as if I would have to compromise my personal Christian moral beliefs to read it," Duke University freshman Brian Grasso, one of the students who refused to read it, stated this summer, noting its "graphic visual depictions of sexuality" were too much.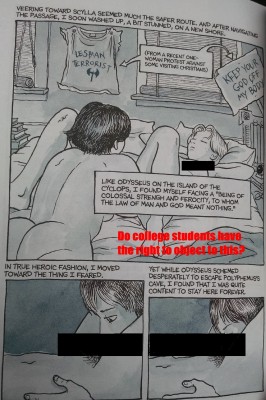 (Image censored by The College Fix)
The book also made headlines in 2013 after it was assigned as part of a reading program at a South Carolina public university, with parents and conservative groups saying it was inappropriate for freshmen, close to pornographic, and promoted homosexuality.
Bechdel has said the book is not meant to cause sexual arousal in readers.
Nevertheless, South Carolina lawmakers forced academics on the public dole in their state to assign material instead on "principles of the United States Constitution, the Declaration of Independence, and the Federalist Papers."
In addition to Duke and the College of Charleston, "Fun Home" has been assigned at: Brandeis, St. Michael's College (Vermont), Smith College, Otterbein (Ohio), Tulane, Univ. of Wisconsin, Indiana University – Purdue University Indianapolis, Long Island University, Wesleyan, Purchase College, Miami University (Ohio), Crafton Hills College, Connecticut State University, University of Utah, and Rutgers, among others. It has also been taught in two private high schools: Lake Forest Academy and The Collegiate School.
(This according to a 2013 email from Bechdel to a College Fix reporter, as well as an internet search, news reports, and campus catalogs. It is not a complete list).
While it would seem these assignments have been undertaken without incident, it is clear the subject matter is disreputable to some students.
"Duke did not seem to have people like me in mind," Duke student Grasso had stated on Facebook. "It was like Duke didn't know we existed, which surprises me."
Grasso also wrote a column for The Washington Post about his experience, stating in part: "I don't believe my position will limit my exposure to essential lessons in history, philosophy or literature. I assume that having to view graphic images of sex for a class will be rare. If it does happen, I will avoid any titillating content and encourage like-minded students to do the same. And I believe professors should warn me about such material, not because I might consider them offensive or discomforting, but because I consider it immoral."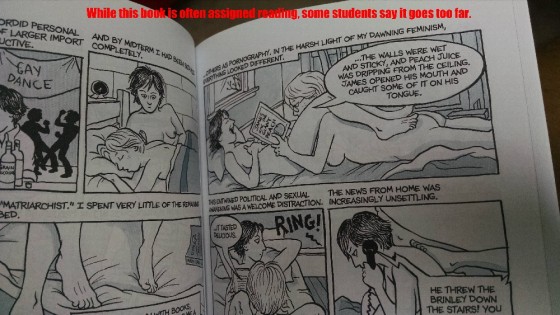 Grasso has stated online that in addition to the feedback on his initial Facebook post, many students privately messaged him thanking him for speaking up; one Muslim student wrote: "I've seen a lot of people who just throw away their identity in college in the name of secularism, open-mindedness, or liberalism."
And Duke student Jeffery Wubbenhorst wrote an article to The Chronicle, Duke's student newspaper, that "the nature of Fun Home means that content that I might have consented to read in print now violates my conscience due to its pornographic nature."
It's a message that seems to be resonating.
Evangelist Franklin Graham praised the Duke students on Facebook: "Thank God for the Duke University students who had the guts to stand up to the school's administration and refuse to read the assigned gay- and lesbian-themed book 'Fun Home.' … Isn't it a shame that universities all across the country are allowing the LGBT community to push their propaganda on America's young people! Parents, this should greatly alarm you-and I hope you will make your voice heard. I pray that more students will take a stand like this and refuse to read such immoral and inappropriate material."
As of Sept. 3, Graham's post had been "Liked" nearly 130,000 times and shared nearly 30,000 times.
In Duke's case, a selection committee chose the summer reading book.
"Fun Home was ultimately chosen because it is a unique and moving book that transcends genres and explores issues that students are likely to confront . . . The summer reading is entirely voluntary – it is not a requirement, nor is there a grade or record of any student's participation," Michael Schoenfeld, Duke's vice president for public affairs and government relations, stated following the controversy.
"With a class of 1,170 new students from around the world, it would be impossible to find a single book that did not challenge someone's way of thinking. We understand and respect that, but also hope that students will begin their time at Duke with open minds and a willingness to explore new ideas, whether they agree with them or not."
And the book doesn't always prompt controversy.
When it was assigned as reading for a freshman English class at Miami University in Ohio, no one made a fuss publicly about the nature of the book. The class discussed its content and the different literary techniques used in the book.
Like The College Fix on Facebook / Follow us on Twitter
UPDATE: This article has been amended to clarify the title of Indiana University – Purdue University Indianapolis.
IMAGE: Main, Shutterstock