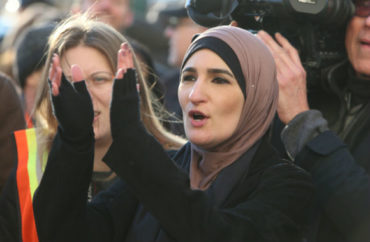 Linda Sarsour is a rock star of #TheResistance, a Muslim woman who helped organize the Women's March on Washington.
But she also gave the keynote speech at a convention where pro-LGBT Muslims were allegedly banned from sharing their group's advocacy and left under duress.
Muslims for Progressive Values (MPV) has accused the Islamic Society of North America – co-founded by the Muslim Student Association at the start of the Reagan presidency – of going along with threats that forced it to leave the Chicago event, which ended last week.
Our reporter Andy Ngo writes for The American Spectator:
MPV partnered with the [secular LGBT] Human Rights Campaign to operate a tabling booth. There, MPV says their pamphlets advocating LGBT and women's equality within Islam first drew the ire of an ultra-orthodox attendee. Soon after, they were asked to close shop and leave the venue by ISNA staff.

According to Frank Parmir, a convert to Islam and organizer with MPV-Columbus who staffed the booth with Michael Toumayan, HRC's religion and faith program manager, a man in "Salafi garb" lectured them on homosexuality and sin. "To be a 'real Muslim,' one must assert that homosexuality is a sin," Parmir recalled the man saying.
Pro-LGBT Muslim Group Kicked Out of Muslim Conference Where Linda Sarsour Spoke https://t.co/Sq9LioWm7Q

— MPV (@mpvusa) July 12, 2017
MORE: MSA demands punishment for all 'Islamophobic' speech
An ISNA director later approached the group and put them on notice they might be asked to leave. Another man "asked" them to leave the convention in what Parmir described as a "veiled demand," and two ISNA leaders allegedly confirmed they weren't welcome. Parmir told Ngo:
They were okay with HRC's advocacy for gay rights. They were not okay with MPV's advocacy that gays should find unrepentant inclusion with the Muslim community and that women should be given equality.
MPV later released a statement calling ISNA hypocritical for claiming to support gay rights after the Orlando nightclub massacre by a closeted gay Muslim man, but showing its true self in its treatment of MPV at the convention.
Ngo said neither ISNA nor Sarsour, the keynote speaker and prominent activist, responded to requests for comment.
MORE: U. of Kansas offers women-only lunchroom for Muslims
Like The College Fix on Facebook / Follow us on Twitter
IMAGE: a katz/Shutterstock