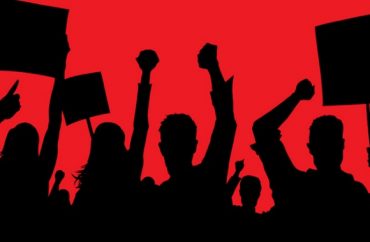 UPDATED
'These departments never hire professors who vary from the party line'
Two professors at Middlebury College, where libertarian sociologist Charles Murray and his faculty host fell victim to Homeland-style mob violence last week, are circulating a "statement of principles" in defense of free inquiry and against "efforts to silence speech and debate."
It drew national visibility when The Wall Street Journal published the statement Monday night. Here are a few representative principles:
Only through the contest of clashing viewpoints do we have any hope of replacing mere opinion with knowledge.

The impossibility of attaining a perfectly egalitarian sphere of free discourse can never justify efforts to silence speech and debate.

Exposure to controversial points of view does not constitute violence.

MORE: Charles Murray shouted down by mob, run out of Middlebury

A protest that prevents campus speakers from communicating with their audience is a coercive act.

The purpose of college is not to make faculty or students comfortable in their opinions and prejudices.

A good education produces modesty with respect to our own intellectual powers and opinions as well as openness to considering contrary views.
As of Wednesday afternoon it had been signed by 79 Middlebury professors including its authors, English Prof. Jay Parini and Political Science Prof. Keegan Callanan, and Murray's faculty host, Allison Stanger.
But the signatories are not close to evenly spread between departments at the Vermont liberal arts college, as University of Chicago Political Science Prof. Charles Lipson notes in a Wednesday post on Zip Dialog, a group blog.
Most of Stanger's poli sci colleagues signed, and Parini's departmental colleagues "signed in larger numbers than most departments," Lipson writes:
Support from literature departments would not happen at most universities. That it did at Middlebury may reflect the kind of department Parini helped build or simply his colleagues' friendship.

Who signed the petition beyond faculty in Political Science and Literature? The bulk were in the "hard social sciences" (Economics, Psychology), History, Russian, Math, Chemistry, Geology, and, surprisingly, Religion.
Here are the departments and minors where no one has signed as of Wednesday afternoon:
African American Studies, African Studies, American Studies, Arabic, Comparative Literature, Dance, Education Studies, French, Gender, Sexuality, & Feminist Studies, Global Health , Greek, Hebrew-Classical, Hebrew-Modern, International and Global Studies, International Politics and Economics, Latin, Linguistics, Molecular Biology and Biochemistry, Physical Education, Physics, South Asian Studies, Spanish and Portuguese, Studio Art, and Theatre
(Lipson apparently listed "Social Sciences" incorrectly in his post. While Social Sciences, one of eight academic divisions, does not appear as any professor's affiliation, a College Fix reader points out that one of the programs within social sciences, Sociology/Anthropology, has two faculty signatories on the list. A version of the list archived Tuesday confirms they had signed before Lipson's post was published.)
MORE: Injured professor says her ignorant colleagues egged on protesters
This is no surprise to Lipson, citing his experience across many universities:
Opposition comes from the Humanities, Arts, and softer social sciences. Because social justice. …

On nearly every campus, the staunchest opponents are professors of gender, sexuality, women's studies, race, Native American studies, education, and social work, all highly-politicized bastions of the left. American Studies is now essentially the same and so are most literature departments. (Middlebury is an outlier.)

They always lead the opposition to free speech. Because social justice.

If students don't agree with the dominant political ideology of these departments, they leave or never enter in the first place. …

These departments never hire professors who vary from the party line. Never.
One of the statement's signatories, Poli Sci's Matthew Dickinson, writes a long post scolding the protesters (and their faculty enablers) for depriving his own students a chance to challenge Murray and staining their reputations:
One alumnus noted to me that while he still hoped his children would attend Middlebury, his wife was now dead set against the idea.  I expect many others feel this way as well. …

Two days before Murray's talk I spent my entire weekly politics luncheon discussing Murray's research in the Bell Curve, and acquainting students with many of the critiques of his findings.  My presentation was attended by a packed audience of students and local residents, and many of the students went away primed to do battle with Murray.  A few of them, drawing in part on my slide presentation, put together a pamphlet outlining five criticisms of Murray's argument in the Bell Curve, which they placed on every seat in Wilson Hall.  Unfortunately, due to the actions of protesters, my students never had the opportunity to engage Murray beyond a few questions directed at him via Twitter. What's worse, they now find themselves inaccurately characterized in media outlets as coddled, immature "snowflakes" and "liberal fascists" bent on promoting intolerance and hate.
Read the principles, Lipson's post and Dickinson's observations.
CORRECTION: Two faculty members of Sociology/Anthropology, part of the Social Sciences division at Middlebury, signed the "statement of principles" before University of Chicago Prof. Charles Lipson claimed that Social Sciences had no signatories. The post has been amended accordingly.
MORE: Middlebury thugs whine that security was 'abusive' to them
Like The College Fix on Facebook / Follow us on Twitter