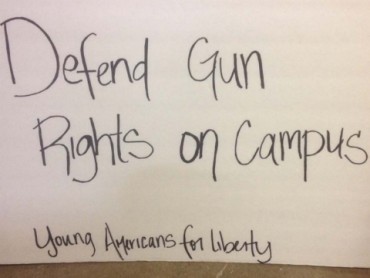 A vindictive ceramics professor
The prospect of students publicly advocating for Second Amendment rights at Blinn College so worried one administrator that she told student activists not to expect to get permission to do it, according to a new lawsuit.
That fear of libertarian advocacy also allegedly drove a professor to make vague threats against a student activist.
The public college in Texas is the latest target of the Stand Up For Speech project by the Foundation for Individual Rights in Education (FIRE), which has taken particular aim at college speech codes and free speech zones that limit expressive activity to small regions of campuses.
The project's latest settlement resolved litigation against a public university for a "speech tax" it applied to a group hosting a controversial speaker.
The Blinn suit challenges the school's free speech zone, "a section of pavement the size of a parking space," as well as its requirement that student organizations get prior permission "to hold any meeting" and distribute written material to students, "even discussion materials" for a club meeting.
Nearly 100 pages of the 116-page suit feature exhibits such as paperwork students must complete, Blinn policies around demonstrations and photos of signs used by plaintiff Nicole Sanders and her Young Americans for Liberty chapter.
'On campus, I'm not so sure'
The lawsuit recounts Sanders getting blindsided in February when "uniformed, armed campus police officers" told her and a fellow activist they couldn't keep holding their signs and recruiting for the chapter around the student center. Sanders had been assured by defendant Erikah Brown, student clubs coordinator, that the activity was fine, the suit claims.
Student Center Coordinator Sheri Rich, who accompanied the police and is named as a defendant, told the students they needed "special permission" for the activity because Blinn was "private."
Rich also implied they couldn't get that permission, saying she wasn't against guns but "on campus, I'm not so sure," the suit claims.
Defendant Mordecai Brownlee, then the dean of students, later told Sanders she had violated a policy requiring students to get permission from another official to "meet on College District premises." She was also supposed to notify the student leadership office a month in advance, Brownlee said, the suit claims.
After an event – even club meetings – student organizations must submit an "activity report form" to student leadership describing what they did, Brownlee allegedly told Sanders.
Events that don't get prior approval must be held in the free speech zone, a "190 square foot concrete corner outside the Blinn College Student Center, divided by a bulletin board," the suit says. The school's Brenham campus is 62 acres – plenty of space to hand out literature without interfering with other school functions, it says.
The suit also faults Blinn for making Sanders wait two months to get approval to distribute a "palm card" explaining Fifth Amendment rights – and even then, informing her group's adviser rather than her.
'Think really hard' before bringing YAL to Blinn
The strangest part of the lawsuit recounts what happened in April after Sanders returned from a YAL trip to Washington, D.C.
The suit claims her ceramics professor, defendant Doug Peck, grilled her about her trip and told her to "think really hard" before bringing YAL to campus, because it would "cause havoc for Blinn."
Peck said in front of four other students that he'd "protect me and mine" from accusations against Blinn, and that Sanders "better think" before taking action against the school, the suit claims. (The professor had seen a video altercation of Sanders' run-in with campus police and comments on the video suggesting she take legal action.)
Sanders took her professor's words as an attempt to intimidate her "to not file the instant lawsuit."
The suit also names the school president and head of student services as defendants because of authority over designating campus zones for free expression.
Catherine Sevcenko, FIRE's associate director of litigation, said in a statement that Blinn couldn't distinguish between "gun rights or gay rights" when it comes to letting students "speak out on the issues they are passionate about."
FIRE said its legal team at Davis Wright Tremaine was the same one that secured the "speech tax" settlement three weeks ago.
Greg Piper is an associate editor at The College Fix. (@GregPiper)
Like The College Fix on Facebook / Follow us on Twitter
IMAGES: Young Americans for Liberty's Blinn College chapter
Like The College Fix on Facebook / Follow us on Twitter