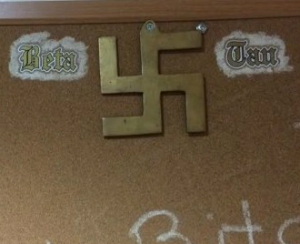 All it took was international condemnation and threats of legal action!
George Washington University – the first college in the nation to crack $50,000 in "total cost of attendance" for students – won't expel a student after all who posted a symbol resembling a Nazi swastika on his house's bulletin board, which turned out to be a Hindu religious symbol, the Times of India reports.
The school made a big stink about the symbol when it was first discovered – President Steven Knapp even opened a hate-crime investigation – yet has made nary a peep in the past two months as its ignorance was fully exposed.
The Foundation for Individual Rights in Education and the Hindu American Foundation told the school it was illegally punishing a student for his speech, and two of its own law professors – John Banzhaf and Jonathan Turley – said the school had clearly crossed the line.
Banzhaf said in an email blast Wednesday night that the school only relented in its attempted punishment of the student following "threats of legal action, widespread condemnation from several major religious organizations, and very critical if not satirical reports" in the international media.
The symbol "somewhat resembles the Nazi swastika but is different in color, orientation, and proportions," Banzhaf said. The professor had warned that individual university officials could be personally liable for punishing the student for posting the symbol, which is used by Hindus, Buddhists, Jains and Zoroastrians.
It's good to know that as the number of administrators spikes in higher education, threatening them with personal ruin is still an effective way to get a response.
Greg Piper is an associate editor at The College Fix. (@GregPiper)
Like The College Fix on Facebook / Follow us on Twitter
IMAGE: Foundation for Individual Rights in Education
Like The College Fix on Facebook / Follow us on Twitter