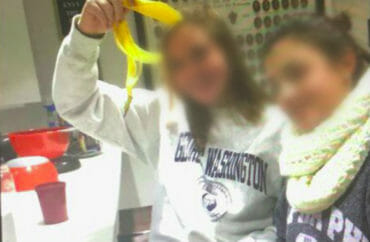 Sorority asked for 'reeducation' help from multicultural center
It's a private institution, but really, what business do these overpaid bureaucrats have punishing students who privately shared a photo that offended some people?
George Washington University officials are leaving open the possibility they'll go Gestapo on any student or student group whose private musings draw criticism.
Following a campus uproar over a Snapchat photo that included a banana peel and a racially tinged caption, the administration explicitly refused to take punishment off the table for GWU's chapter of Alphi Phi and the now-ex members who shared the photo.
The GW Hatchet reports:
In response to questions from The Hatchet about the investigation and possible sanctions for the students involved and the sorority, University spokeswoman Lindsay Hamilton said officials are "continuing conversations, both with people who were directly involved in the photograph and with those who have been affected by it, to determine appropriate next steps."

It's unclear what University punishment the students could face. The student code of conduct bars discrimination on the basis of race, ethnicity, gender identity, age, disability or sexual orientation, but doesn't mention acts that are offensive.
Yes, tell us, GWU: What specific policy did this violate? Are you inventing it on the fly, or simply dangling the guillotine over these women's heads to satisfy the mob that's forming against them?
Here's what happened last week, according to the Hatchet: A photo got out that appeared to show two Alpha Phi members in the sorority's townhouse. One is holding a banana peel. The caption reads "Izzy: 'I'm 1/16 black."
It's Snapchat, so the photo disappears after all the recipients view it. This isn't the banana-noose incident at American University – it's a lame joke shared in a small group. And yet it drew the same overheated local media attention as the banana-noose incident.
MORE: 'Inclusive communities' training uses stereotypes to assign 'privilege'
According to the Hatchet, the administration immediately said it was "looking into" the failed attempt at humor (no authority given for this). Provost Forrest Maltzman ludicrously claimed this private, ephemeral photo (below) "can make people question whether they are welcome at the University, and that is unacceptable to me."
Oh really? Any stupid social media post that upsets someone means the entire community is threatened?
Student Association Sen. Imani Ross blamed Alpha Phi institutionally, with no evidence of wrongdoing by anyone else. Note her comments about "light-skinned women":
"They've notoriously not taken women of color, they haven't taken women of color in this last rush period and all of the women that they have taken have been in the last two years have been light-skinned women," Ross said. "It is clear that there is some sort of, I would say, phenotypic ideal type of person that is supposed to be in Alpha Phi."
In other words, you're not a woman of color if your skin is a lighter color than Ross's.
MORE: American U says bananas are racist threats
The Black Women's Forum also denounced Alpha Phi for initially saying the responsible members would only be suspended. That didn't last long.
The fake scandal metastasized over the past few days, as everyone tangentially connected to the photo fell over themselves apologizing to avoid the wrath of campus activists and administrators.
The chapter swiftly expelled the two members in the photo and the member who took the photo, operating under the fiction that this incident was remotely threatening to anyone.
Get a load of this Orwellian language:
We recognize that our earlier response, supplied by our National Headquarters, did not reflect the severity [?] of this racist act. …

We are culpable for this action as a group in which a few felt comfortable making a joke that was distinctly racist, ignorant, and harmful [?]. We are in no way trying to contextualize, excuse, or forgive the events that occurred.

We recognize that there are issues within our organization relating to our privilege and lack of diversity, and we are committed to listening to the voices of those who have been harmed [?] by the actions of those individuals and by our actions as a chapter.
This begs the question: Who has been harmed at all, to say nothing of severe harm?
The chapter concludes by noting it has asked for "reeducation" from the Multicultural Student Services Center. This is how totalitarian countries operate.
MORE: Ole Miss mocked for shutting down event over banana peel
The most fair criticism of Alpha Phi might be its prior efforts to diversity. The Hatchet reports:
Nikole Rodrigues, a senior who disafiliated from Alpha Phi her junior year, said the [Snapchat] post "reaffirmed" why she originally decided to leave the chapter, which she said created a community that she felt "excluded" from as an ethnic minority.

Rodrigues said when she initially joined the chapter, she was placed in a "lineage" group, a group of members that share a common trait, called the "ethnic phamily." Although the group initially reflected her pride in being diverse, she said it created an obvious divide between racial minorities and white members of the sorority.

"It essentially emphasized that even though the minorities were included, the 'ethnic' label separated all people who weren't white, which is not a good thing," Rodrigues said.
Who is surprised that Alpha Phi would think that this "ethnic phamily" idea would make nonwhite members feel more comfortable in the sorority?
Colleges across the country are giving in to minority demands for their own segregated housing so they can get away from whites. Whites are told not to initiate communication with blacks in some contexts.
The worst thing GWU can do to promote actual racial reconciliation is punish Alphi Phi and its ex-members. The message to every organization on campus will be clear: Not even your privately expressed thoughts are safe from the whims of administrators.
MORE: American U won't say how it punished perps in racist-banana incident
MORE: White students can't ask black students questions
IMAGE: Snapchat
Like The College Fix on Facebook / Follow us on Twitter