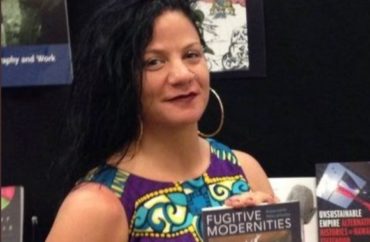 George Washington University Associate Professor of History Jessica Krug has come out … as white.
For years the scholar, whose areas of expertise listed on her faculty bio include African American history, imperialism and colonialism, presented as black and built her career researching slavery and other colonialism topics.
But in a Sept. 3 Medium post titled "The Truth, and the Anti-Black Violence of My Lies," Krug writes:
To an escalating degree over my adult life, I have eschewed my lived experience as a white Jewish child in suburban Kansas City under various assumed identities within a Blackness that I had no right to claim: first North African Blackness, then US rooted Blackness, then Caribbean rooted Bronx Blackness. I have not only claimed these identities as my own when I had absolutely no right to do so — when doing so is the very epitome of violence, of thievery and appropriation, of the myriad ways in which non-Black people continue to use and abuse Black identities and cultures — but I have formed intimate relationships with loving, compassionate people who have trusted and cared for me when I have deserved neither trust nor caring. People have fought together with me and have fought for me, and my continued appropriation of a Black Caribbean identity is not only, in the starkest terms, wrong — unethical, immoral, anti-Black, colonial — but it means that every step I've taken has gaslighted those whom I love.
Krug's story is reminiscent of another academic who is white but pretended to be black: Rachel Dolezal.
According to Krug's faculty bio, she is author of "Fugitive Modernities" and "has also written on hip hop, politics, and gender in both Angola and New York City, as well as the transnational ritual idioms of politics in Jamaican Maroon societies in the eighteenth century."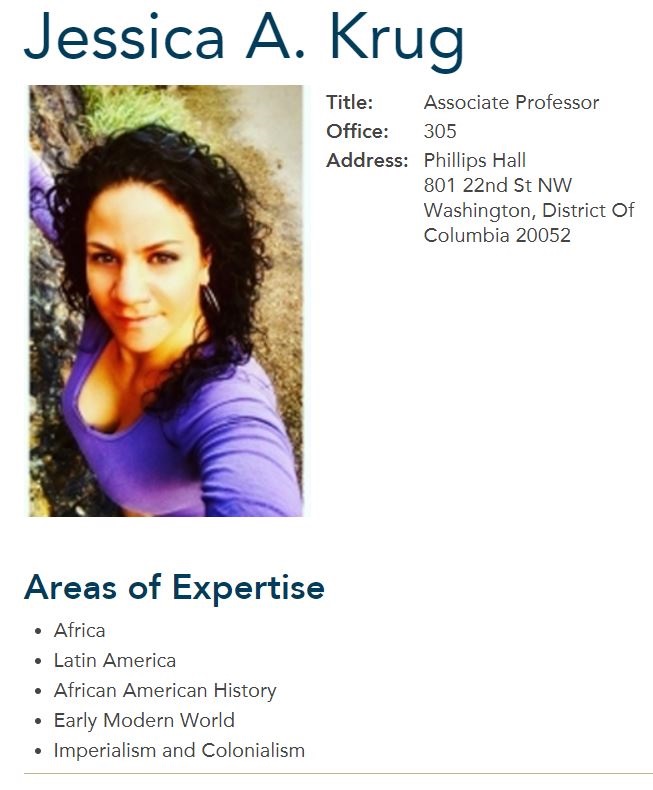 George Washington University tweeted from its official account Thursday that officials are aware of the situation and are looking into it but "cannot comment further on personnel matters."
Krug cites a history of trauma in her youth for her act, then adds:
I have not lived a double life. There is no parallel form of my adulthood connected to white people or a white community or an alternative white identity. I have lived this lie, fully, completely, with no exit plan or strategy. I have built only this life, a life within which I have operated with a radical sense of ethics, of right and wrong, and with rage, rooted in Black power, an ideology which every person should support, but to which I have no possible claim as my own.
She also argues for her own cancellation: "I should absolutely be cancelled. … I have built my life on a violent anti-Black lie, and I have lied in every breath I have taken. There are no words in any language to express the depth of my remorse, but then again: there shouldn't be. Words are never the point."
Fox News reports Krug may have been backed into corner regarding her admission: "Hari Ziyad, editor-in-chief of the online publication, RaceBaitr, said Krug was someone he 'called a friend up until this morning when she gave me call admitting to everything written' in her blog post."
He tweeted she "didn't do it out of benevolence. She did it because she had been found out."
Jess Krug, professor at @GWtweets, is someone I called a friend up until this morning when she gave me a call admitting to everything written here. She didn't do it out of benevolence. She did it because she had been found out.https://t.co/kSNkVUzbtM

— Hari Ziyad (@HariZiyad) September 3, 2020
Other observers also reacted on Twitter.
jessica krug's old author bio is, uh, something else pic.twitter.com/YMKW8eHiI0

— graham starr (@GrahamStarr) September 3, 2020
Many are asking themselves how #JessicaKrug managed to fool anyone into believing she was Afro Latina. Well, let me tell you: we were both fellows at the Schomburg and I suppose she fooled me. (a thread 🧵)

— Yarimar Bonilla 👩🏾‍💻 (@yarimarbonilla) September 3, 2020
Krug isn't the first GW professor to have fabricated part of her background. A novelist who died earlier this year from coronavirus and taught at GW for eight years was found to have lied about being Latino https://t.co/ZyNybQhDk9 https://t.co/UcIyvfA0if

— Parth Kotak (@parthhkotak) September 3, 2020
Writing in the campus newspaper The GW Hatchet, one student who is also the opinion editor of the paper argued Krug must leave the university and stop teaching.
"Krug claimed to be a Black woman while teaching African History, writing a book on African leaders in the 16th century and writing three published papers on the African diaspora and African History. She built her academic reputation on a bunch of lies. She placed herself in stories and contexts that are not her lived experience," Hannah Thacker wrote.
"This semester, she's teaching classes on African and Latin American history. She's met her students this week," she added. "But Krug doesn't deserve to have a relationship with them when her platform is built off lies. She should hand her classes over to a more reputable and honest professor."
MORE: Loyola University Chicago explores blacks-only freshman housing plan
IMAGE: Twitter screenshot
Like The College Fix on Facebook / Follow us on Twitter